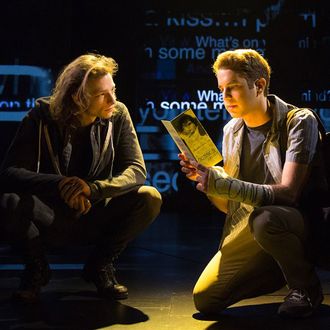 Waving through a window.
Photo: Matthew Murphy
For angsty teen Broadway musical Dear Evan Hansen, today is a good day and here's why: The Broadway show's cast recording debuted at No. 8 on the Billboard 200, the highest debut of any cast recording since Camelot strutted out at number 4 in 1961. This ranking puts Dear Evan Hansen's debut above Hamilton's, which debuted at No. 12 on the charts. Still, with 25,000 in pure album sales (not counting streaming), Evan Hansen's actual sales numbers fall below the debuts of Hamilton, which sold 28,000 in its first week in 2015, and Rent, which sold 43,000 in 1996. Still, the team behind Evan Hansen, including Ben Platt, who plays Evan, and Oscar-nominated songwriting duo Pasek and Paul, has a lot to celebrate. Evan Hansen is only the fourth cast recording to make it into the Top 10 of the Billboard 200 in the last 50 years*, after The Book of Mormon, which made it to No 3 in 2011, Hair, which rose to No. 1 in 1969, and of course, Hamilton, which peaked at No. 3 in 2016. Point being, to butcher the lyrics to one of its songs, Dear Evan Hansen has indeed been found.
*This post has been updated to reflect that the Dear Evan Hansen cast recording is the fourth cast recording to make it into the Top 200 in the past 50 years, not in all of history.