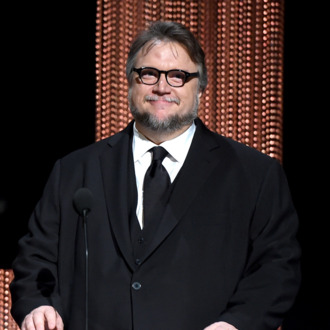 Photo: Kevin Winter/Getty Images
Director Guillermo del Toro spoke about blasting barriers as he accepted the Filmmaker Award at the 64th Motion Picture Sound Editors Golden Reel Awards in Los Angeles on Sunday night.
"I am Mexican. And these are times in which the fact that you have given me this award proves that those barriers that people try to erect between us are false," said del Toro as the audience rose to its feet. "At the end of the day, we are all peers. We are all in this together."
Prior to taking the stage, the director, who has been outspoken regarding actions taken by the new administration, mentioned that he wasn't aiming to make his acceptance speech political.
"I think that specifically with the award, would make it very presumptuous to take it as that. There are events in the past few weeks, and there will be in the next few weeks, where I think that's a forum to do it. In this, I think, that all I will say is that is — and very significant for me — we are showing plurality, that every one of the designers and editors comes from a different background," del Toro told Vulture before the ceremony.
Del Toro also emphasized the importance of civic engagement at this particular moment in time. "I think that this is a time where we have to be involved. It's not a time where we can think that it's business as usual … No matter where you stand in the spectrum, you know that it's an exceptional time. In my case, it's a time in which I need to be active and aware and have solidarity with what I believe and show it — first of all, as a citizen of the world. And second of all, as a Mexican, as a man that comes from Latin America, that knows how complex and how deep the relationship goes between our countries."
Despite a taxing few weeks for immigrants in the U.S., del Toro seems encouraged by the vocal opposition to the direction the country is headed. "I think that the only thing that I can hope is that things continue to be not normalized, as they have been in the past few weeks where people take the streets and people are very vocal," he says. "That's what gives me hope."