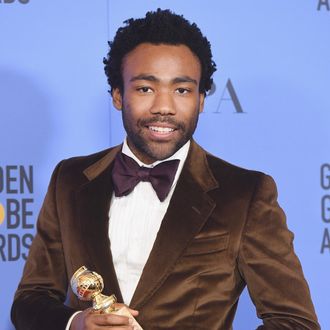 Donald Glover.
Photo: Kevin Winter/Getty Images
Last September, the not-totally-unsurprising news that Jon Favreau would be helming a remake of Disney's The Lion King immediately fueled speculation about who would be cast to play the (likely CGI) role of the story's hero, one young "Hakuna Matata"–loving cub called Simba. Well, tonight that decision was heavily tipped by none other than Favreau himself, who tweeted that Donald Glover, a.k.a. Childish Gambino, a.k.a. Lando Calrissian, would occupy said mane:
And while the news has yet to be confirmed by anyone in the Glover camp, it seems pretty likely that this is not news Favreau would spread lightly. Like Favreau's take on The Jungle Book, this film is likely to be pretty CGI-heavy (especially with the zero human characters in that universe), so while we're not likely to see much of the real, live Glover in action, we are likely to hear his voice. And as any Gambino fan knows, that ain't nothing to sneeze at.
Update: Moments later, as A.V. Club has reported, Favreau also tweeted that James Earl Jones has been cast, presumably per the hashtag, as Mufasa again (though, what if he was Scar, that would be weird, right?). The question then remains: What's Jeremy Irons up to?