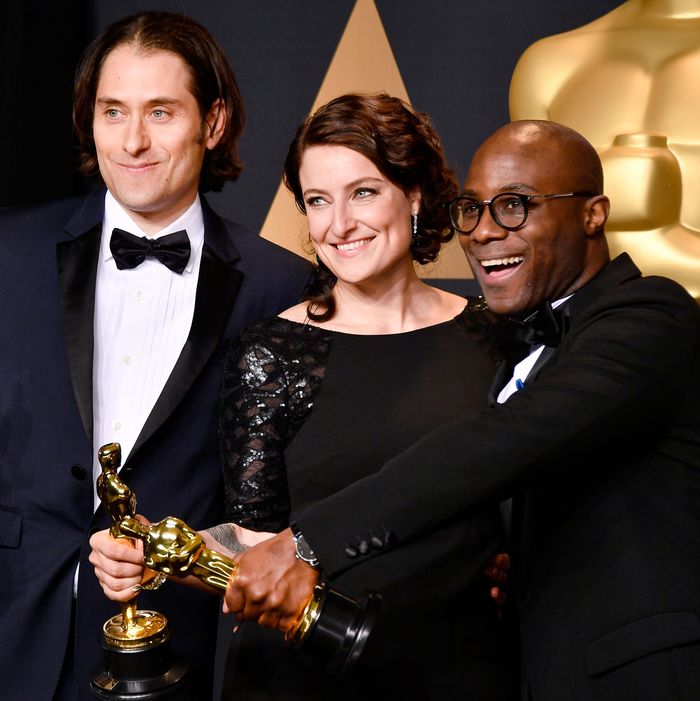 Jeremy Kleiner, Adele Romanski, and Barry Jenkins celebrate Moonlight's win.
Photo: Frazer Harrison/Getty Images
There's little doubt that, hundreds of years from now, when our robot overlords look back on human history, the main footnote from the 89th Academy Awards will be the bizarre snafu that took place during the announcement of Best Picture, when La La Land was mistakenly declared the winner instead of the actual victor, Moonlight. But we shouldn't let what was essentially an error by an accounting firm — albeit an insane, breathtakingly strange error — overshadow how very, very awesome it is that Moonlight won Best Picture.
Barry Jenkins's beautiful, deeply felt film follows a black man named Chiron through three moments in his life, and was adapted by the director and playwright Tarell Alvin McCraney from McCraney's unproduced play In Moonlight Black Boys Look Blue. And as a Best Picture winner, and even nominee, it stands out from its brethren significantly.
First, Moonlight is the rare film to have a cast that's entirely actors of color, making it only the second such film to win Best Picture, if I'm not mistaken, after Slumdog Millionaire in 2009. And while Slumdog Millionaire took place in India, Moonlight focused on the minority experience in the present-day United States — hardly typical territory for the Academy, which tends to prefer its black stories to take place in the distant past.

Within the Oscar narrative, this serves as a welcome corrective to last year's #OscarsSoWhite embarrassment, but more than that, it's a testament to the growing power and reach of narratives about black life in America, as well as the artistry and skill with which they're being made. In Mahershala Ali, Moonlight also features the first Muslim to win an acting Oscar, an achievement that, alongside Asghar Farhadi and Khaled Khateeb's protests against president Trump's travel ban, couldn't have come at a more fitting ceremony.
Second, at a miniscule $1.5 million budget, Moonlight appears to be the least expensive film to ever triumph in the category, beating out Crash, which cost $6.5 million, as well as older winners like Rocky and The French Connection once you factor in inflation. Even for an indie film, that's a tiny budget; to give you some perspective, last year's Best Picture nominee Room, which also came from upstart distributor A24, had a budget of $13 million. And with a box-office take that currently stands at just over $22 million, Moonlight is the second-lowest-grossing movie to win Best Picture since 1982, topping only The Hurt Locker's $14.7 million at the time of its victory in 2009.
While you could argue that this is a sign of the Academy's ongoing dismissal of the kind of mainstream, big-budget, spandex-clad filmmaking that currently dominates movie theaters across the country, you'd then have to provide an example of one of those films that deserves to be a Best Picture winner — something that, especially in 2016, the year of Batman v Superman and Suicide Squad, you'd be hard-pressed to do. Instead, Moonlight provides a case study in the increasing efficacy of indie outfits like A24, which partnered with Brad Pitt's Plan B — also the producers of 2013 winner 12 Years a Slave — to finance and distribute the movie.
For A24, this is a major achievement: Not only is it the company's first Best Picture win, it's also a Best Picture win for the first project they ever developed themselves, a shift from the distributor's previous practice of acquiring and releasing films that had already been financed. While the recession and subsequent failure of specialty distributors like Paramount Vantage and Warner Independent seemed to signal dark times for independent filmmaking, the recent rise of A24 — not to mention the complicating presence of Netflix and Amazon, which both won their first Oscars this year — means that there are a wealth of non-studio options providing alternatives to supersized tentpole productions.
And third, while taste is subjective and ranking art an exercise in imprecision, it does seem, at least to this writer, that the best movie won the day. Moonlight topped the critics' consensus of both Metacritic and the Village Voice, and it's the rare Best Picture winner that already feels like a classic, as skillfully photographed and directed as it was written and acted. It's an art film that can play to all audiences, a work of profound cinematic resonance — Jenkins has talked about his debt to directors as varied as Claire Denis and Wong Kar-wai — that also shows remarkable intuition about what it's like to be alive in this current moment in history.
Jenkins tells a very personal story that's endlessly relatable to anyone who's ever struggled with expressing the fullest meaning of themselves — in other words, everyone — and he does so with an eye toward evoking a place and sensibility with which much of his audience is unfamiliar. It takes nothing away from La La Land to say that Moonlight represents precisely what films should strive to accomplish, applying aesthetic virtuosity to a poignant investigation of human feeling. For that above all — above televised mix-ups and Hollywood politics and business trends — it should be celebrated.