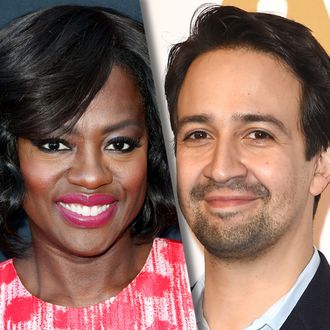 Viola Davis and Lin-Manuel Miranda.
Photo: Getty Images
As you've probably heard, Lin-Manuel Miranda could EGOT on Sunday. Of all this year's Academy Award nominees, Miranda is the only one who's won the other three components of the trophy grand slam — he's got the Grammy and Tony for Hamilton, and the Emmy for writing for the Tonys telecast — and still needs that pesky Oscar. Vulture's official prediction is that he won't scoop up the Best Original Song trophy for Moana (surely the win will go to a La La Land song, right?), but there are plenty of other nominees who could get closer to joining the immortal club with a win Sunday night. Here's this year's pre-Oscars EGOT watch:

Viola Davis
With just three nominations, Davis has more Oscar noms than any black actress in history. Davis has an Emmy at home for playing the first lady of Shondaland, How to Get Away With Murder's Annalise Keating. She's also got two Tonys, one of them for the 2010 revival of Fences. An Oscar win for the film adaptation would leave a Grammy as the only award she's still after. Does someone have some spoken-word she can perform?
Sting
Like Miranda, Sting's song for the James Foley documentary Jim isn't expected to win an Oscar this weekend, but an underdog victory would put the musician close to an EGOT. Sting has an Emmy for an A&E concert special a little over a decade ago, plus over a dozen Grammys for his solo career (alongside the handful he earned with the Police). If he has a little involvement in the forthcoming Broadway adaptation of Moulin Rouge, a Tony might be in his future, too.

Justin Timberlake
Let this sink in: Justin Timberlake has four Emmys, all for his contributions to Saturday Night Live. That's shockingly close to the number of trophies he's amassed in his real job, music, for which he has ten Grammys. No matter how grating his Oscar-nominated Trolls tune is, you can never count out star power. If anyone can triumph over La La Land in Original Song, it'll be him, which means that JT could end the night one Tony away from an EGOT.