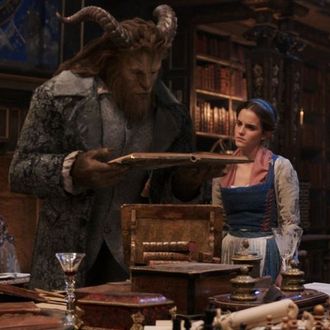 Beauty and the Beast.
Photo: Disney
If you've watched Beauty and the Beast and also happen to be older than, say, 10, you probably found the central narrative — in which the Beast imprisons first Belle's father and then Belle against their wills, eventually apologizing only for his unrefined manner of doing so — a fitting match for that buzzword problematic. Particularly because Belle leaves and then returns to her captor/beau, a common critique levied against the story is that it merrily acts out a perfect Stockholm Syndrome case study. Live-action Belle Emma Watson would like to refute such armchair psychology with armchair psychology of her own, though, telling Entertainment Weekly: "Stockholm Syndrome is where a prisoner will take on the characteristics of and fall in love with the captor. Belle actively argues and disagrees with [Beast] constantly. She has none of the characteristics of someone with Stockholm Syndrome because she keeps her independence, she keeps her independence of mind."
Watson also describes how Belle's initial independence makes the ensuing romance (you know, the one where Belle falls in love with her captor …) that much more satisfying, absconding the love-at-first-sight narrative of many fairy tales. "Beast and Belle begin their love story really irritating each other and really not liking each other very much … slowly, slowly, very slowly [it] builds to them falling in love." May Patty Hearst be grateful Emma Watson had no role in her pardon.