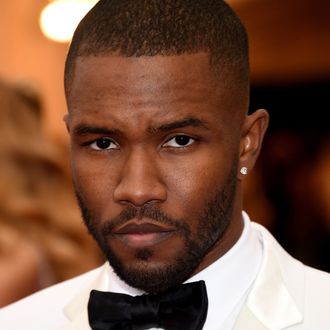 Frank Ocean.
Photo: Larry Busacca/Getty Images
Earlier this week, the duo fronting the Grammys' creative team, Ken Ehrlich and David Wild, appeared on a podcast to discuss why exactly Frank Ocean was boycotting this year's ceremony. Ocean had been vocal about deliberately not submitting either of his albums, Blonde or Endless, for awards consideration this year, saying that he considers the actions to be his "Colin Kaepernick moment." Ehrlich and Wild, though, suggested another motive behind his reasoning, pointing to his "faulty" performance of "Forrest Gump" at the 2013 ceremony. The performance was plagued by technical difficulties, and Wild believes Ocean has been harboring a grudge about it ever since. Aware of the duo's comments, Ocean is now responding with a scathing Tumblr post that sharply criticizes both the men and the Grammys as a whole.

"Ok Ken (and David). As much as I hate to make you guys famous or even respond to you directly. We all die one day and you're old so fuck it," Ocean wrote. "Yea yea my 2013 performance at the Grammys was absolute shit. Technical difficulties, blah blah. Thanks for the reminder. Very much appreciated. Fuck that performance though. You think that's why I kept my work out of the Grammy process this year? Don't you think I would've wanted to play the show to 'redeem' myself if I felt that way?" Ocean also admitted that although he was planning to participate in the Grammys' tribute to Prince, he decided against it, realizing that the best way to pay tribute would be to "continue to be myself out here and to be successful."
Ocean also took aim at the Grammys for their "cultural bias" with musicians, evident to him in 2016's Album of the Year battle between Taylor Swift and Kendrick Lamar, which Swift ultimately won. "I've actually been tuning into CBS around this time of year for a while to see who gets the top honor and you know what's really not 'great TV' guys? 1989 getting album of the year over To Pimp A Butterfly," he wrote. "Hands down one of the most 'faulty' TV moments I've seen. Believe the people. Believe the ones who'd rather watch select performances from your program on YouTube the day after because your show puts them to sleep." James Corden is hosting the Grammys this year on February 12.