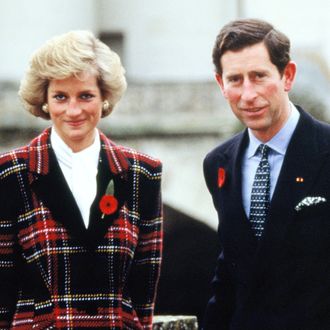 Get ready for so many shoulder pads.
Photo: Georges De Keerle/Getty Images
The only way to top a feud between Hollywood royalty is to move straight to the royal family. FX announced today that it has ordered a second season of Ryan Murphy's anthology series Feud, which will be titled Feud: Charles and Diana. We don't know much about the ten-episode second installment, other than that it will likely focus Diana's complicated (to put it nicely) relationship with the British royals. Murphy and Jon Robin Baitz, who is currently working on the Katrina installment of American Crime Story, will develop Charles and Diana together. Two questions immediately come to mind: (1) How do the people behind The Crown feel about FX stealing their thunder? (2) How good is Sarah Paulson's British accent?