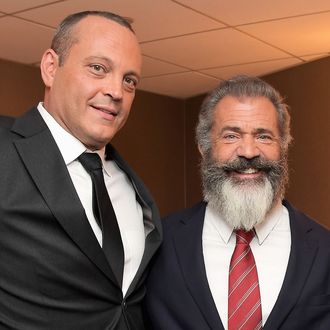 Photo: Charley Gallay/Getty Images for dcp
One-upping the buddy-cop genre, there's a new movie coming about two officers who are suspended for police brutality who then "descend into the criminal underworld to gain their just due," according to a press release. Mel Gibson and Vince Vaughn — who last worked together on Hacksaw Ridge — will play the cops. Here's the official synopsis for Dragged Across Concrete:
A stolid, old guard policeman, Ridgeman (Gibson) and his volatile younger partner, Anthony (Vaughn), find themselves suspended when a video of their strong-arming tactics become the media's special du jour.  Low on cash and with no other options, these two embittered soldiers descend into the criminal underworld to gain their just due, but instead find far more than they wanted awaiting them in the shadows.
Just to be clear: "Embittered soldiers" in that description refers to the police officers suspended for their conduct. Writer-director S. Craig Zahler (of the acclaimed indie Bone Tomahawk) promises the movie will be something unexpected. "Dragged Across Concrete is best suited to my goal of making a heartfelt, surprising, sad, funny, shocking, and memorable world with multiple viewpoints," he said the release. Vulture has reached out for further clarification on the plot, and we'll update this post if we hear back.