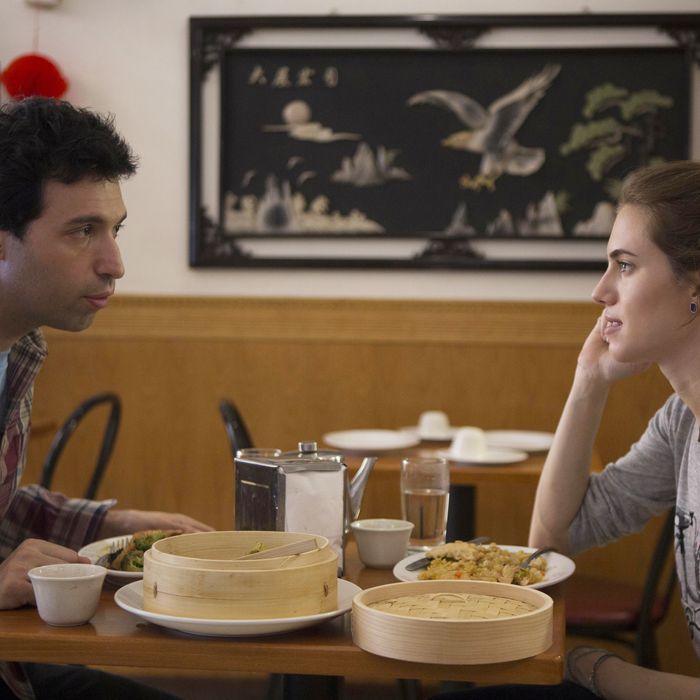 Ray (Alex Karpovsky) and Marnie (Allison Williams).
Photo: HBO
Of all the sex scenes on Girls, perhaps the most memorable is the moment when Desi gives Marnie analingus within the first few minutes of season four. The image of Marnie (Allison Williams), bent over the kitchen sink in front of two open windows, was instant internet fodder for both GIFs and think pieces about butt play. So who could blame the showrunners for wanting to pay homage to the scene during their final season? At the show's season-six premiere, Williams and Alex Karpovsky, who plays Ray, gave Vulture a tease about an upcoming scene that will be reminiscent of season four's rim job.
"It's not in the first two episodes," Karpovsky said. "Me and Marnie, we re-create a sex scene that she had with Desi, and it was really weird."
"It's … evocative of that certain other situation," Williams said, "in very different and noticeable ways."
Part of the weirdness, Karpovsky said, is that up until now, Ray hasn't been party to a lot of the sex games that the rest of the characters frequently indulge in. No orgies, no threesomes, no water sports, no role play. Most of Ray's intimate encounters, Karpovsky noted, had been "pretty timid, compared to everyone else. The first scene where he was having sex with Shosh set the tone for that, because she's wearing the fleece, and it's undercover. So for Ray to do what I'm talking about, it's pretty out there for him." Perhaps Lena Dunham was inspired to put Ray in such a scene after she heard about Karpovsky's enthusiasm for the Marnie-Desi original outing. Back when that was about to air, the actor told us, "Let's explore all the cavities! … There is some type of sexual revolution happening, and maybe that's one of the cliffs or peaks that we need to begin to incorporate into our societal representation of this revolution, specifically in television. This could be the year of the anus."
The scene won't just be a repeat for nostalgia purposes. Karpovsky called it a "remix" of sorts, promising it would have "a totally different visceral energy" and approach it from a "different angle." "It's about the position it's shot at," he hinted vaguely. We just hope it's not an extreme close-up.