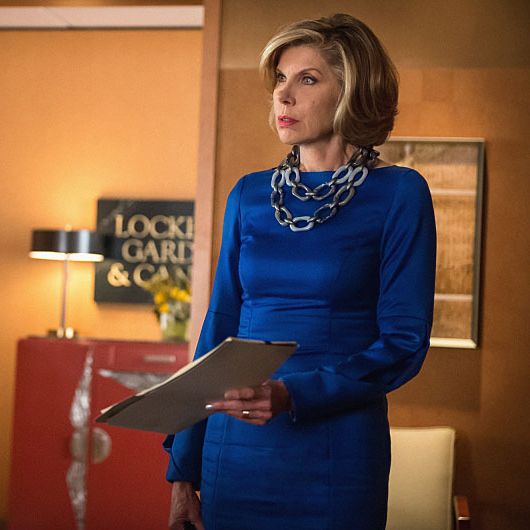 Christine Baranski as Diane Lockhart.
Photo: Jeff Neumann/CBS
If you missed out on CBS's late, great drama The Good Wife, you're probably wondering whether you can jump right into its spinoff, The Good Fight. Well, don't fret: It's easy enough to brush up on Wife before Fight premieres on February 19 — the complete series is available to stream on CBS All Access, Hulu, and Amazon Prime. (In a pinch, episode recaps and the show's surprisingly dense Wikipedia page might help, too.) Ahead, Vulture recommends the essential episodes to watch ahead of The Good Fight. Even if you've seen the original series, a little refresher might be in order.
If you only watch one episode, watch "End" (season 7, episode 22)
The series finale of The Good Wife was best known for a ghost (long story) and a slap, dished out by Diane Lockhart to Alicia Florrick (Wife's main character, played by Julianna Margulies). Played by Christine Baranski, Diane is The Good Fight's lead, and one of a very small handful of Wife characters who will appear on the spinoff. Watching "End" will give you a sense of Diane's mindset going into Fight. That said, if you watch this episode without others for context, bear in mind that the Diane we see in the series finale has been pushed to her very limit. She isn't the sort of character who goes around slapping people wantonly. Available on CBS All Access, Hulu, and Amazon Prime.
If you only watch two episodes, watch the pilot as well
A lot changed from the beginning of The Good Wife to the end, but having a sense of where it all started will help orient you to the world in which Fight is set. The pilot is more focused on setting up Alicia's complicated backstory, but nevertheless, it's a strong demonstration of who Diane is — an attorney at the top of her game, deeply committed to the idea that "women helping women" can create a force stronger than any boys' club could. Available on CBS All Access, Hulu, and Amazon Prime.
If you want a weekend binge, watch season seven in its entirety
Full disclosure: Season seven is not The Good Wife's best season. But you'll get a great sense of what Diane's life looked like in the period immediately preceding Fight if you make time to watch it all. Plus, watching the season as a whole is your best chance to get to know Lucca Quinn, played by Cush Jumbo, who'll be appearing as a Fight lead. Lucca's backstory and her interactions with Good Wife cast members are a bit of a slow burn — we're introduced to her gradually across the course of the season, rather than in multiple, stand-alone episodes. Season seven is 16 hours of television, so if that doesn't sound feasible, read on for more stand-alone episodes to work through. Available on CBS All Access, Hulu, and Amazon Prime.
If you want to see Diane's legal prowess at its peak, watch "Loser Edit" (season 6, episode 18)
Christine Baranski called it one of her favorite episodes, and it earned her an Emmy nomination for the show's sixth season. (Baranski was nominated six consecutive times for The Good Wife, but tragically never won.) In it, Diane is hired by a conservative client to be the liberal voice in a mock trial about whether a business can discriminate against a gay client for religious reasons. It's a thought experiment, but a fascinating one, and it shows off how skilled Diane is at litigation and how deeply liberal her political values are. It's not a stand-alone episode by any means — if anything, it's Alicia-heavy — but you could easily fast-forward through the non-Diane bits. Available on CBS All Access, Hulu, and Amazon Prime.
If you want to meet Diane's extraordinarily unlikely husband, watch "Outside the Bubble" (season 5, episode 4)
Diane and her husband Kurt, played by Gary Cole, are a pretty odd couple on paper. He loves guns! He's a Republican! But he also really, really loves her, and there was something remarkable about the fact that Diane had a partner who both supported her unconditionally and disagreed with her in deep, fundamental ways. This episode has plenty of interaction between Kurt and Diane, plus it's got their perfect wedding and Diane's stunning response to being edged out at her law firm. This episode wasn't an Emmy submission for Baranski, but it sure could've been, and it's the most bang for your buck. Available on CBS All Access, Hulu, and Amazon Prime.
If you want to get your heart broken, watch "The Last Call" (season 5, episode 16)
Here's where I shake my head, sigh deeply, and ask whether you're sure you don't want to just watch The Good Wife from the beginning. If you're truly committed to a crash course, all I'll say is that Diane suffers a devastating and shocking loss in "The Last Call," and watching her character reel is a massive insight into her emotional range (to say nothing of Baranski's). You'll also get a chance to meet David Lee, a partner of Diane's, who suffered the same loss and whose grief is equally multidimensional. David is played by Zach Grenier, who's only slated to be in one episode of Fight. Still, his impending betrayal of Diane in Fight — it's in the trailer, so it's not a spoiler! — will be even more fun to watch with a bit of context. Available on CBS All Access, Hulu, and Amazon Prime.
If you want to see why Diane is so unique, watch "Whiskey Tango Foxtrot" (season 3, episode 9)
This is another of Baranski's favorite episodes. Her colleague Will Gardner's relationship with Alicia has brought the attention of the State's Attorney to their law firm, and Diane know they'll back off if the affair ends. As Diane tells Will to break things off with Alicia, she is unequivocal and ferocious. In explaining why this was a favorite moment, Baranski said, "I think it was the quintessence of Diane, who could wield authority with a kind of centeredness and strength and integrity." We don't see a lot of women who get to act like that on TV; consider it a preview of Fight's coming attractions. Available on CBS All Access, Hulu, and Amazon Prime.
If you want to meet Lucca Quinn, try "Payback" (season 7, episode 5).
One of the first things we learn about Lucca Quinn is that she's pretty brilliant — she has both a deep knowledge of the law and a creative attorney's mind. I'm still confused about why a lawyer of her caliber was languishing in bail-bond court, but this episode is the first in which Alicia and Lucca practice together at their own firm. They take on a case that winds up being a suit against a for-profit college, and Lucca's skill and focus as an attorney are on full display. Expect to see a lot of both in The Good Fight. Available on CBS All Access, Hulu, and Amazon Prime.
If you can't get enough Lucca, also watch "Shoot" (season 7, episode 17)
Although Diane and Lucca worked at the same law firm by the end of Wife's seventh season, they didn't directly interact much. But in this episode, Diane and Lucca collaborate on the defense of a man who posted a billboard criticizing the owners of a gun store who sold the weapon that killed his daughter. The two characters certainly didn't end The Good Wife on friendly terms, so it's not clear whether Lucca and Diane will be allies or adversaries in Fight. "Shoot" provides a glimpse of them working side by side, as well as a good look at the courtroom storytelling the spinoff will offer. Available on CBS All Access, Hulu, and Amazon Prime.
If you want to meet Marissa Gold, watch "Monday" (season 7, episode 14)
Played by Sarah Steele, Marissa Gold is the daughter of Eli Gold, a longtime political adviser on The Good Wife. She'll be on The Good Fight as well, and while the context of her story line in "Monday" is a little tricky to pick up cold — in short, it involves a long-running federal investigation — it's a great example of Marissa's offbeat sense of humor, intelligence, and fierce love for her family. As a bonus, this episode has some nice Diane and Lucca moments so watching it will provide some solid pre-Fight insight. Available on CBS All Access, Hulu, and Amazon Prime.
If you want Diane's best one-liners, watch "Alienation of Affection" (season 3, episode 12)
Diane Lockhart is very, very funny, with a dry wit that's unmatched by anyone other character on television. Part of the credit for that is owed to Wife's writers, of course, but part of it is Baranski herself, who has some of the best arch timing in the business. Diane's sense of humor is evident almost every time she appears in The Good Wife, but "Alienation" is a particularly delightful example. (With a heaping side dish of David Lee!) Available on CBS All Access, Hulu, and Amazon Prime.
If you want to learn why Diane Lockhart is the greatest, watch "Je Ne Sais What?" (season 4, episode 12)
In this episode, Diane conducts legal proceedings in fluent French. Enough said. Available on CBS All Access, Hulu, and Amazon Prime.