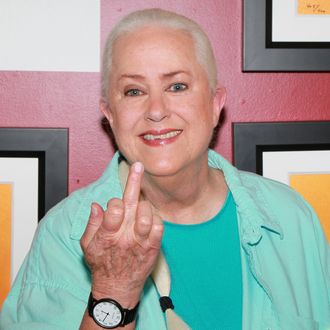 Pretty much her message to the chicken chain.
Photo: David Livingston/Getty Images
Jefferson Airplane and Starship singer Grace Slick says all the money Chick-fil-A paid to put "Nothing's Gonna Stop Us Now" in its Grammy ad is being used to fund the gay-rights group Lambda Legal. Apparently, she concocted this clever plot right after the chain reached out to get permission, she writes in a Forbes blog post. She admits the company's stance on same-sex marriage was an immediate deterrent, but knew that if she turned them down out of principle, they would have just used a different song and paid somebody else:
So that was my voice you heard on the Chick-fil-A commercial during the Grammy Awards telecast. I am donating every dime that I make from that ad to Lambda Legal, the largest national legal organization working to advance the civil rights of LGBTQ people, and everyone living with HIV. Admittedly it's not the millions that WinShape [the charity founded by Chick-fil-A's founder] has given to organizations that define marriage as heterosexual. But instead of them replacing my song with someone else's and losing this opportunity to strike back at anti-LGBTQ forces, I decided to spend the cash in direct opposition to "Check"-fil-A's causes — and to make a public example of them, too. We're going to take some of their money, and pay it back.
It's not clear what Slick was paid for the ad, but she argues that at least it provided an "opportunity to strike back at anti-LGBTQ forces." "I come from a time when artists didn't just sell their soul to the highest bidder, when musicians took a stand, when the message of songs was 'feed your head,' not 'feed your wallet,'" she adds, making the obligatory drug reference. "We need that kind of artistic integrity today, more than ever."
And since now you're curious, here's the original ad: