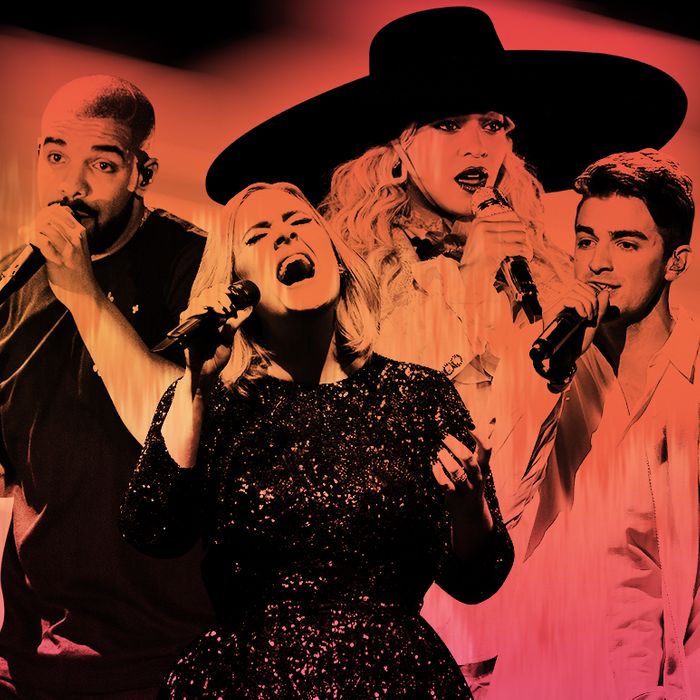 Let the showdown begin.
Photo-Illustration: Maya Robinson/Vulture
The 2017 Grammys crowd might be a bit sparser than usual thanks to the expected absence of Frank Ocean, Kanye West, Drake, and Justin Bieber, but the show must go on. This Sunday, the Recording Academy will hand out close to 100 awards to artists ranging from those you've either never heard of to ones you couldn't escape even if you jetted to Mars. Album of the Year promises to be a pop diva showdown: Drake versus the Biebs. Or is it Adele versus Beyoncé? Too close to call! We gave you our half-accurate nominations predictions, now place your bets (at your own risk) with Vulture's comprehensive final Grammy picks for the big night.
The 2017 Grammys go down February 12 on CBS; check back on Vulture that night and judge our score accordingly.

Album of the Year
Adele, 25
Beyoncé, Lemonade
Justin Bieber, Purpose
Drake, Views
Sturgill Simpson, A Sailor's Guide to Earth
Who Will Win: The Grammys love to throw a curveball in their biggest category. This year, Sturgill Simpson will be the one to whack it out of the park. With so many of pop's upper echelon pitted against each other, you'd think one should have the advantage of emerging victorious. But we've seen this story before: Just two years ago, Beck, the lone non-pop nominee in a field almost identical to the one above, upset Beyonce's self-titled opus to win Album of the Year. (Never forget, Herbie Hancock once beat Amy Winehouse and Kanye West; Robert Plant and Alison Krauss bested The Carter III and In Rainbows.) That the Grammys even nominated Simpson, the little-known anti-establishment country singer-songwriter, is your first sign that they've set the stage for another shakeup.
Who Should Win: And that shakeup will once again come at Beyoncé's expense. Unlike last year's Taylor Swift lovefest, Bey likely won't be the default winner this Grammys night. (Even if there was one, it'd be Adele.) No matter how much conversation Lemonade deservedly created, it's Grammy tradition to ignore it.
Song of the Year
Beyoncé, "Formation"
Adele, "Hello"
Mike Posner, "I Took a Pill in Ibiza"
Justin Bieber, "Love Yourself"
Lukas Graham, "7 Years"
Who Will Win: Last year, this award went to Ed Sheeran's "Thinking Out Loud"; now he's back to repeat on the sly. He's a co-writer on Justin Bieber's "Love Yourself," but, lucky for him, Song of the Year was invented specifically to praise the mastermind(s) behind the song. It's a thankless job penning sick burns like "my momma don't like you and she loves everyone," but someone's gotta do it.
Who Should Win: Beyoncé, if only because it would make Rae Sremmurd's Swae Lee (co-writer on "Formation") a Grammy winner, thereby righting the injustice of his "Black Beatles" snub. But because "Formation" is such an overtly pro-black rebel yell — not unlike Kendrick Lamar's "Alright," which also lost to Sheeran in this same category last year — count on the Grammys to play it safe.
Record of the Year
Adele, "Hello"
Beyoncé, "Formation"
Lukas Graham, "7 years"
Rihanna feat. Drake, "Work"
Twenty One Pilots, "Stressed Out"
Who Will Win: Critics had a lukewarm reaction to Adele's 25 and the Grammys nearly followed suit, giving her only five noms — remember, she won six for her last album — but she won't be ignored. "Hello" was one of the biggest-selling singles of 2015 (and of the last couple decades). The Grammys adore dollar signs about as much as they do Adele, so this is hers to lose.
Who Should Win: If Adele does somehow lose, it will either be Rihanna or Beyoncé snatching her crown. "Work" spent about as long at No. 1 as "Hello" (the charts are a big reason "Uptown Funk" won this award last year), but since so many white critics confused Rihanna's patois and creole for "alien tongue," you can bet the Grammys won't know what to do with it. (Not giving "Work" a Song of the Year nod is shade enough.) And as we've discussed, the Grammys might not be ready for a radical Bey yet (or ever).
Best New Artist
Kelsea Ballerini
Chance the Rapper
Maren Morris
The Chainsmokers
Anderson .Paak
Who Will Win: The Grammys reward hits and, in their period of eligibility, the Chainsmokers had three of them — including 2016's longest-running No. 1 in "Closer." While the Recording Academy didn't give praise to that single in the big non-genre-specific song categories, they'll make up for it here.
Who Should Win: In a perfect world, Chance the Rapper. For not only being worthy of the accolade based solely on his creative output, but for busting down Grammy barriers and pushing the institution into the 21st century with recognition of streaming innovation and artist independence.
Best Pop Solo Performance
Adele, "Hello"
Beyoncé, "Hold Up"
Justin Bieber, "Love Yourself"
Kelly Clarkson, "Piece by Piece" (Idol Version)
Ariana Grande, "Dangerous Woman"
Who Will Win: Count on this being Adele's first trip to the podium.
Who Should Win: This is a performance category by very loose definition, but the Grammys at least acknowledged the live element of the award by nominating Kelly Clarkson's version of "Piece by Piece" sung on American Idol. You know, the one that made America collectively weep. It was emotional, nostalgic, and expert Grammy bait.
Best Pop Duo/Group Performance
The Chainsmokers feat. Halsey, "Closer"
Lukas Graham, "7 years"
Rihanna feat. Drake, "Work"
Sia feat. Sean Paul, "Cheap Thrills"
Twenty One Pilots, "Stressed Out"
Who Will Win: Brace yourselves: If the Grammys go full predictable Grammys, the Chainsmokers are about to clean up.
Who Should Win: Without a shred of a doubt, Rihanna.
Best Traditional Pop Vocal Album
Andrea Bocelli, Cinema
Bob Dylan, Fallen Angels
Josh Groban, Stages Live
Willie Nelson, Summertime: Willie Nelson Sings Gershwin
Barbra Streisand, Encore: Movie Partners Sing Broadway
Who Will Win: Lucky for Babs and Bob, neither Tony Bennett nor Michael Buble put out an album last year. Both Dylan and Streisand lost on their previous tries in this category, but Streisand's latest album was a hit. The Grammys love hits.
Who Should Win: For getting alone time with Chris Pine in the studio (we see you, Babs), Streisand all the way.
Best Pop Vocal Album
Adele, 25
Justin Bieber, Purpose
Ariana Grande, Dangerous Woman
Demi Lovato, Confident
Sia, This Is Acting
Who Will Win: Adele may as well just move her seat to the stage.
Who Should Win: 25 is the best album cover-to-cover of the bunch, Adele is the best singer of the bunch (even if Ariana has the better range), and Adele has the most Grammys of the bunch, combined. It's almost cruel to nominate anyone else besides her.
Best Dance Recording
Bob Moses, "Tearing Me Up"
The Chainsmokers feat. Daya, "Don't Let Me Down"
Flume feat. Kai, "Never Be Like You
Riton feat. Kah-Lo, "Rinse & Repeat"
Sofi Tukker, "Drinkee"
Who Will Win: Chainsmokers, pull up a chair right next to Adele (during the preshow, of course). "Don't Let Me Down" was a Song of the Summer contender, which is enough to get the Grammys' attention.
Who Should Win: But Bob Moses's sultry, tormented "Tearing Me Up" makes "Don't Let Me Down" sound amateur.
Best Dance/Electronic Album
Flume, Skin
Jean-Michael Jarre, Electronica 1: The Time Machine
Tycho, Epoch
Underworld, Barbara, Barbara, We Face a Shining Future
Louie Vega, Louie Vega Starring…XXVIII
Who Will Win: The Grammy committees vote two ways: who they know and what's popular. They'll have heard of Flume and know he's had moderate hits, but they'll be most familiar with Louie Vega. He's a previous winner, though not in this category. It also helps that it's the year most versatile dance album.
Who Should Win: Can we write in Kaytranada?
Best Rap Performance
Chance the Rapper feat. Lil Wayne & 2 Chainz, "No Problem"
Desiigner, "Panda"
Drake feat. the Throne, "Pop Style"
Fat Joe & Remy Ma feat. French Montana & Infared, "All the Way Up"
ScHoolboy Q feat. Kanye West, "That Part"
Who Will Win: Much as it pains me to think Chance's only Grammys moment (aside from performing) won't be seen on the broadcast, this might just be it.
Who Should Win: Have you seen Desiigner perform "Panda"?

Best Rap/Sung Collaboration
Beyonce feat. Kendrick Lamar, "Freedom"
Drake, "Hotline Bling"
D.R.A.M. feat. Lil Yachty, "Broccoli"
Kanye West feat. Chance the Rapper, Kelly Price, Kirk Franklin & The-Dream, "Ultralight Beam"
Kanye West feat. Rihanna, "Famous"
Who Will Win: Since the Grammys snubbed "Hotline Bling" in Record of the Year (perhaps as a slap on the wrist for finding a loophole in their eligibility rules), I'm inclined to think they'll give it to Drake here. But only because they didn't have the chance to award "Hotline Bling" last year.
Who Should Win: Was there a better pop-rap collaboration of the last two years than Beyoncé and Kendrick's "Freedom"? "Hotline Bling" would've been better off in the pop category, where it belongs. (Spoiler: There's no rapping on it.)
Best Rap Song
Fat Joe & Remy Ma feat. French Montana & Infared), "All the Way Up"
Kanye West feat. Rihanna, "Famous"
Drake, "Hotline Bling"
Chance the Rapper feat. Lil Wayne & 2 Chainz, "No Problem"
Kanye West feat. Chance the Rapper, Kelly Price, Kirk Franklin & The-Dream, "Ultralight Beam"
Who Will Win: Kanye may his qualms about the Grammys — all those noms and no AOTY win yet is insulting — but they love him. And they will once again give him his due for making the year's best rap song.
Who Should Win: We don't want no devils in the house. We want Kanye's "Ultralight Beam," and that's it!
Best Rap Album
Chance the Rapper, Coloring Book
De La Soul, And the Anonymous Nobody
DJ Khaled, Major Key
Drake, Views
ScHoolboy Q, Blank Face LP
Kanye West, The Life of Pablo
Who Will Win: There's a general rule that if your album is up for AOTY, chances are, it's a shoo-in for the Best [Insert Genre] Album subcategory. By that faulty logic, this award will go to Drake, his second win in this category and yet another gramophone to take shots out of.
Who Should Win: Shots that belong to Chance the Rapper, who made the best rap album of 2016.
Best Country Solo Performance
Brandy Clark, "Love Can Go to Hell"
Miranda Lambert, "Vice"
Maren Morris, "My Church"
Carrie Underwood, "Church Bells"
Keith Urban, "Blue Ain't Your Color"
Who Will Win: Expect Maren Morris to have a big night that could see her be the dark house in Best New Artist. That's an uncertain upset, but "My Church' is the most well-performed song of the bunch. It's a lock.
Who Should Win: Only Carrie Underwood has the vocal chops here to mess with Maren Morris, but "Church Bells" isn't her personal best. Maren Morris deserves this one.
Best Country Duo/Group Performance
Dierks Bentley feat. Elle King, "Different for Girls"
Brothers Osborne, "21 Summer"
Kenny Chesney & P!nk, "Setting the World on Fire"
Pentatonix feat. Dolly Parton, "Jolene"
Chris Young with Cassadee Pope, "Think of You"
Who Will Win: Pentatonix. But, let's keep one thing clear: This award is going solely to and because of Dolly.
Who Should Win: Despite all its sweeping generalizations about the way women behave in relation to men, Dierks Bentley and Elle King sound great together. (Also Elle King's quick transition to country hopeful has felt so right.) "Different for Girls" works when you want it to break — which could be said for many a Grammy winner.
Best Country Song
Keith Urban, "Blue Ain't Your Color"
Thomas Rhett, "Die a Happy Man
Tim McGraw, "Humble and Kind"
Maren Morris, "My Church"
Miranda Lambert, "Vice"
Who Will Win: Maren Morris's "My Church" should've been nominated for Song of the Year, but the Grammys were not as kind to "proper" country as they were last year or in years past. Still, she'll at least beat out her peers.
Who Should Win: Even if Miranda Lambert's "Vice" is the better-written song.
Best Country Album
Brandy Clark, Big Day in a Small Town
Loretta Lynn, Full Circle
Maren Morris, Hero
Sturgill Simpson, A Sailor's Guide to Earth
Keith Urban, Ripcord
Who Will Win: If there's even a shred of hope left in this world, Sturgill Simpson will further disrupt country music as it stands. (Also, we've already gone over this whole AOTY-contenders-up-for-best-genre-album thing.)
Who Should Win: Again, Sturgill. Such a win would be a Grammy-sanctioned FU to Nashville for attempting to close its doors on him. (The nomination alone is a major shot fired.) But more than just a bold institutional statement, it's recognition of the best country album of 2016, regardless of how the powers that be or his peers choose to categorize it.
Best Rock Performance
Alabama Shakes, "Joe (Live From Austin City Limits)"
Beyoncé feat. Jack White, "Don't Hurt Yourself"
David Bowie, "Blackstar"
Disturbed, "The Sound of Silence (Live on Conan)"
Twenty One Pilots, "Heathens"
Who Will Win: In a shocking twist that goes against every racist, sexist, genre-exclusive bone in the Recording Academy body, the Grammys may actually give a rock award to Beyoncé, a black woman who transcends industry labels. And, really, could anyone fault them for the ratings boost?
Who Should Win: This is secretly the most interesting category at the 2017 Grammys because it intersects so many musical roads at once. In no other time in history but the present could Beyoncé be competing against David Bowie, Twenty One Pilots, and Disturbed. Disturbed! You want to root for Beyoncé for sheer defiance, but Alabama Shakes' performance of "Joe" is one of the best pieces of live music this decade.
Best Metal Performance
Baroness, "Shock Me"
Gojira, "Silvera"
Korn, "Rotting in Vain"
Megadeth, "Dystopia"
Periphery, "The Price Is Wrong"
Who Will Win: The Grammys love them some Korn.
Who Should Win: Megadeth have been nominated in this category an astonishing ten times (this year included, and not to mention the two years they were up for Best Hard Rock/Metal Performance) and have come up empty-handed every single time so far. They're due. Way, way overdue.
Best Rock Song
David Bowie, "Blackstar"
Radiohead, "Burn the Witch"
Metallica, "Hardwired"
Twenty One Pilots, "Heathens"
Highly Suspect, "My Name Is Human"
Who Will Win: The Grammys can't snub Bowie again, can they?
Who Should Win: Odds are Bowie never gave a rat's ass about a Grammy, but a posthumous win feels right.
Best Rock Album
Blink-182, California
Cage the Elephant, Tell Me I'm Pretty
Gojira, Magma
Panic! at the Disco, Death of a Bachelor
Weezer, Weezer
Who Will Win: This is a true toss-up because not one of these albums is good. (Which isn't a slight on rock music as a whole, it just means the Grammys no longer know where to look.) But since the Grammys have to pick the best of the bad and, in doing so, award an act they've never given the time of day, we bet they go with old favorites Weezer.
Who Should Win: The correct nostalgic millennial answer is obviously Blink-182.
Best Alternative Music Album
Bon Iver, 22, A Million
David Bowie, Blackstar
PJ Harvey, The Hope Six Demolition Project
Iggy Pop, Post Pop Depression
Radiohead, A Moon Shaped Pool
Who Will Win: I wouldn't put it past the Grammys to twist the knife even further and give this award to Radiohead over Bowie. They've already won this award twice for equally acclaimed albums. Bowie has only won one Grammy. Ever. Let that sink in.
Who Should Win: Blackstar isn't just a pre-written dirge for a man unlike no other. It's an album that showcased David Bowie in his truest form: unapologetically atypical, fearless, and with more talent in his dying months than most of us will possess in a lifetime. Give him the goddamn award.
Best R&B Performance
BJ the Chicago Kid, "Turnin' Me Up"
Ro James, "Permission"
Musiq Soulchild, "I Do"
Rihanna, "Needed Me"
Solange, "Cranes in the Sky"
Who Will Win: This is Solange's to lose.
Who Should Win: There is no better song in this category than "Cranes in the Sky." Solange deserves every award she has coming.
Best Traditional R&B Performance
William Bell, "The Three of Me"
BJ the Chicago Kid, "Woman's World"
Fantasia, "Sleeping With the One I Love"
Lalah Hathaway, "Angel"
Jill Scott, "Can't Wait"
Who Will Win: Lalah Hathway might just repeat, taking home this award for the second consecutive year.
Who Should Win: But Fantasia's "Sleeping With the One I Love" is a vocal feat deserving of a Grammy.
Best R&B Song
PartyNextDoor feat. Drake, "Come and See Me"
Bryson Tiller, "Exchange"
Rihanna, "Kiss It Better"
Maxwell, "Lake by the Ocean"
Tory Lanez, "Luv"
Who Will Win: Trust Rihanna to beat out the boys.
Who Should Win: This one's tough. "Lake by the Ocean" and "Kiss It Better" are two of the best songs of 2016. But the tiebreaker here is that "Kiss It Better" also happens to be one of Rihanna's best songs ever. That's a harder argument to make about "Lake" and Maxwell. Give Rih her Grammy.
Best Urban Contemporary Album
Beyoncé, Lemonade
Gallant, Ology
King, We Are King
Anderson .Paak, Malibu
Rihanna, Anti
Who Will Win: As much of an insult as it is to segregate black pop artists in this race-based category (which has a strange history), Beyoncé will to get to enjoy a win here. Just like she would've won it in Best Pop Vocal Album, too. But who's complaining?
Who Should Win: Controversially, perhaps, this award truly belongs to Rihanna. Lemonade was the bigger album because Beyoncé is the bigger artist, but Anti remains better.
Best R&B Album
BJ the Chicago Kid, In My Mind
Lalah Hathaway, Lalah Hathaway Live
Terrace Martin, Velvet Portraits
Mint Condition, Healing Season
Mya, Smoove Jones
Who Will Win: The Grammys have loved Kendrick Lamar — even if they haven't always rewarded him — and will know and love Terrace Martin by association.
Who Should Win: Still, BJ the Chicago Kid's long overdue new album is worth the win.
Best Music Video
Beyonce, "Formation"
Leon Bridges, "River"
Coldplay, "Up & Up"
Jamie XX, "Gosh"
OK Go, "Upside Down & Inside Out"
Who Will Win: Beyoncé by a legitimate landslide.
Who Should Win: "Formation" was the best music video of 2016, and it's still the best music video to bless the Earth since. Beyoncé, always.
Best Music Film
I'll Sleep When I'm Dead
The Beatles: Eight Days a Week The Touring Years
Lemonade
The Music of Strangers
American Saturday Night: Live From the Grand Old Opry
Who Will Win: Beyoncé, please come collect the award that was unknowingly invented for you.
Who Should Win: Most of these nominees are films about music. Documentaries, mainly. But only one is a true music film and that's Lemonade. Nothing is competing with Beyoncé in this category, and none should try.

Best Compilation Soundtrack for Visual Media
Amy
Miles Ahead
Straight Outta Compton
Suicide Squad (Collector's Edition)
Vinyl: The Essentials Season 1
Who Will Win: What do the Grammys love more than shows that harp on the industry's past and use incessant covers of oldies to do it? Nothing. Absolutely nothing. Vinyl was designed in an HBO lab for this exact moment.
Who Should Win: For gifting us Amy Winehouse rarities both visual and audible, Amy deserves this.
Best Score/Soundtrack for Visual Media
Thimas Newman, Bridge of Spies
Ennio Morricone, Quentin Tarantino's The Hateful Eight
Alva Noto & Ryuichi Sakamoto, The Revenant
John Williams, Star Wars: The Force Awakens
Kyle Dixon & Michael Stein, Stranger Things Volume 1
Kyle Dixon & Michael Stein, Stranger Things Volume 2
Who Will Win: The Grammys are always a year behind on Oscars trends because of their eligibility period, which means they'll probably vote like the Academy and give this one to Ennio Morricone.
Who Should Win: And that's all well and good, The Hateful Eight has a killer score. But Stranger Things and its score are so symbiotic, the music practically became the essence of the show. Everyone — even people who haven't seen it — know the theme song. It's too bad Kyle Dixon and Michael Stein broke it up into two volumes, though, because that'll work against their odds of winning.
Best Song Written for Visual Media
Justin Timberlake, "Can't Stop the Feeling!"
Twenty One Pilots, "Heathens"
P!nk, "Just Like Fire"
Skrillex & Rick Ross, "Purple Lamborghini"
Shakira, "Try Everything"
Peter Gabriel, "The Veil"
Who Will Win: "Can't Stop the Feeling!" is nominated for an Oscar. Enough said. Timberlake, come collect.
Who Should Win: Because the makers of Suicide Squad could use a smile, let's go with Skrillex and Rick Ross. If nothing else, it's a great workout tune that'll make you forget the movie.
Best Spoken Word Album
Amy Schumer, The Girl With the Lower Back Tattoo
Carol Burnett, In Such Good Company: Eleven Years of Laughter, Mayhem, and Fun in the Sandbox
Patti Smith, M Train
Tom DeSavia, John Doe, Scott Sherratt & Dan Zitt, producers, Under the Big Black Sun: A Personal History of L.A. Punk (Joe Doe With Tom DeSavia)
Elvis Costello, Unfaithful Music & Disappearing Ink
Who Will Win: Ah, every EGOT-watcher's favorite category. They'll want Carol Burnett to win, but this will likely be a steal for Amy Schumer.
Who Should Win: Patti Smith has never won a Grammy and she didn't win in this category last year either. Give the genius her due.
Best Comedy Album
David Cross, ...America…Great…
Margaret Cho, Maerican Myth
Tig Notaro, Boyish Girl Interrupted
Amy Schumer, Live at the Apollo
Patton Oswalt, Talking Over Clapping
Who Will Win, according to Jesse David Fox: Amy Schumer will win, as Grammy voters likely don't know that many comedians. Though Patton Oswalt might be a dark-horse option, after winning the Emmy for Outstanding Writing for a Variety Special.
Who Should Win: Vulture's Jesse David Fox has called Tig Notaro "the best comedian currently working in America" and that extends to her masterful Boyish Girl Interrupted, which he ranked as the best special of 2015.
Best Musical Theater Album
Bright Star
The Color Purple
Fiddler on the Roof
Kinky Boots Waitress
Who Will Win: The Color Purple won the Tony. It will win the Grammy, too.
Who Should Win: Even if every other performer and their understudy in The Color Purple had to collectively call out and it was up to Cynthia Erivo to put on a one-woman show, it would still run away with this award. It's one of the best revivals you'll ever see.