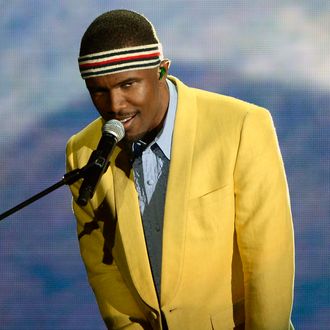 Frank Ocean at the Grammys in 2013.
Photo: Kevork Djansezian/Getty Images
Frank Ocean is boycotting this year's Grammys, deliberately submitting neither Blonde nor Endless for awards consideration. In what he labeled his "Colin Kaepernick moment," the artist says he is skipping the ceremony due to concerns over the Grammys' track record with representation. Kanye West followed suit, but Grammys creative team Ken Ehrlich and David Wild are now casting doubt on Ocean's professed motivations.
Appearing on the Rolling Stone Music Now podcast, the duo suggested that Ocean's Grammys antipathy may in fact stem from his "faulty" performance at the 2013 show. Per Wild, Ocean came into that experience with strong opinions about doing "Forrest Gump" at the ceremony. "Frank had a very definite idea of exactly what he wanted to do and how he wanted to do it … Ken said, that's not great TV," Wild explains. He admits that, unable to dissuade Ocean, the creative team "executed his vision knowing that it was faulty. And we tried to tell him that, we tried to tell his management that, we tried to tell the record label that." The performance indeed did not go over well, and so Wild believes that Ocean may be harboring ill-will because of it. "His feelings about the Grammys right now, I would imagine, probably go back to that in one way. But honestly, it wasn't us," he says.
Ehrlich also argued that if representation issues are truly behind the boycott, then Ocean and company have the wrong solution. He said, "If they're concerned about the representation of hip-hop on the show, they need to respond and say 'Yeah, of course I want to do it' … They've all done it in the past. Without overstating it, I think we were very instrumental in the growth of Kanye West's career." Looks like that productive dialogue is going to have to wait.