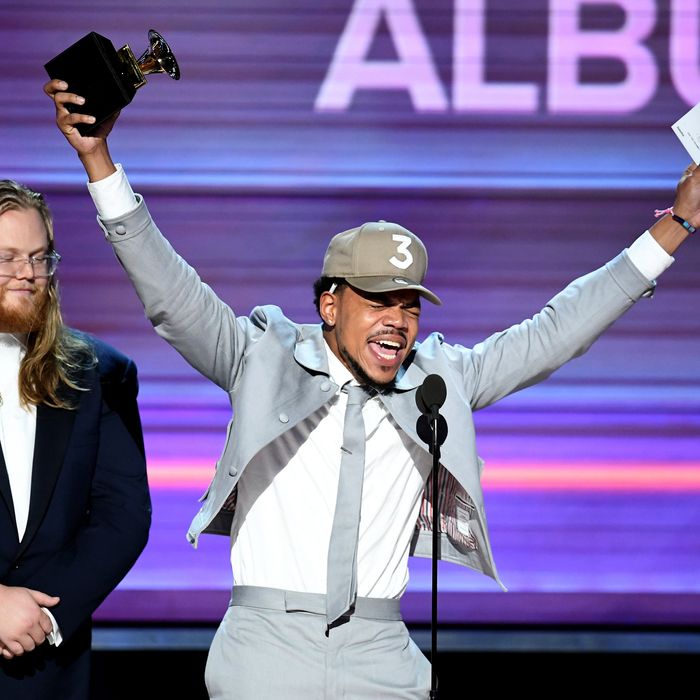 Photo: Kevin Winter/Getty Images
It's been a good night at the Grammys for Chance the Rapper, to say the least. The effervescent 23-year-old Chicago native is taking home awards for Best New Artist, Best Rap Performance, and, in a genuine upset, Best Rap Album, where he beat out Drake and his mentor Kanye West. Chance's win for Coloring Book comes as even more of a surprise given that the Grammys have long tilted toward record-industry favorites. When an album released independent of the usual industry channels (Coloring Book exists exclusively on streaming services) snags a Grammy over music veterans and record-sales juggernauts like Drake and Kanye, it suggests that it's one of those rare awards show occasions where major talent receives timely, major recognition regardless of major-label status.

Of course, this isn't entirely the case: Chance's alliance with Kanye on the latter's Life of Pablo was a crucial step in Chance's transformation from mixtape darling to household name. And Coloring Book, despite being released on no major label, had considerable connections and a giant platform nonetheless: It came out directly through Apple Music as the proprietor of iTunes aims to cut out, or least negotiate very favorable terms with, the middlemen of the traditional label system. Chancellor Bennett's triumphant evening, then, at an event dominated by industry concerns, seems to signal a willingness on the part of said industry to come to terms with a new titan in the field. This hardly diminishes Chance's achievement, but it's something to keep in mind all the same.