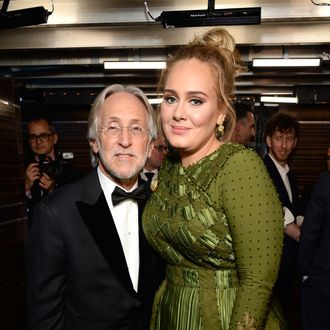 Neil Portnow with Grammy Awards top winner Adele.
Photo: Michael Kovac/Getty Images for NARAS
It's not that Recording Academy President Neil Portnow hasn't heard the criticism of last weekend's edition of the Grammys, but he seems to have his own interpretation of the event. Despite the loud and public outcry from critics and music stars alike over Beyoncé's loss to Adele in three different major categories (including from Bey's big fan Adele) and many articles detailing the academy's bias toward awarding white artists, Portnow told Pitchfork, "No, I don't think there's a race problem at all."
In the interview, Portnow explains that the academy is made up of 14,000 professional recording artists and respected industry insiders who come from all sorts of genres. While true, thousands of voters from across the film industry in the Academy of Motion Pictures didn't stop last year's #OscarsSoWhite controversy. Like the Academy of Motion Pictures, the Recording Academy's vast numbers shouldn't be taken necessarily as the vote of the industry either — as New York Times points out, the Recording Academy "tends to skew older and more traditional," which makes the voters less likely to vote for an inventive, genre-bending risk taker exploring race in America (Beyoncé's Lemonade) when they could instead go for a solid, well-received ballad-heavy album (Adele's 25).
When confronted with Frank Ocean's choice not to attend, or even submit his music, due to the Grammy's "cultural bias" (Ocean referred to the decision as his "Colin Kaepernick moment"), Portnow brushed it off. "I think that's a personal choice," Portnow said. "Not everybody likes or wants to be part of every organization or awards process. I respect that." As for the absence of Kanye, who said he would refuse to go if Ocean wasn't nominated in 2017, and has in the past been very vocal when white artists won awards he thought Beyoncé had earned? According to Portnow, Kanye was in talks to perform, but his "medical concerns and situations" got in the way. Which is probably the same excuse Yeezy's friend President Trump wishes his inauguration planner had used to explain Kanye's absence from that lineup.