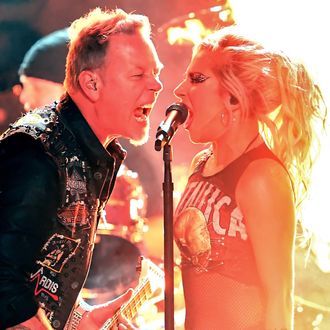 Metallica and Lady Gaga at the Grammys.
Photo: Kevin Winter/Getty Images for NARAS
The 2017 Grammys ceremony was marred by a fair share of controversial moments, and while the powers that be are sticking behind institutional decisions, they are apologizing for the night's technical mishaps. Grammys producer Ken Ehrlich is specifically offering a mea culpa for the mic fail that plagued James Hetfield during Metallica's performance with Lady Gaga. "Obviously, we apologize to the band," Ehrlich told the AP, calling the incident "awful," and adding, "These kinds of things are horrible when they happen." Ehrlich also offered an explanation for the glitch, which forced Hetfield to share Gaga's mic. "My guys say that the mic cable was connected … My guys' theory was that … one of the extras (on stage) accidentally kicked out the cable that went to the mic," he said.
Of course, Ehrlich's explanation might satisfy Metallica's drummer Lars Ulrich, who was pretty mellow about the "slight technical snafu," but good luck getting through to Hetfield. Per Ulrich, the vocalist was "livid," as if the guy needed an actual incentive to get screaming.