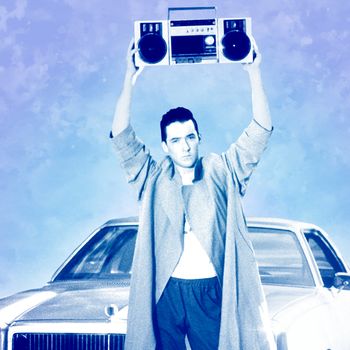 Photo-Illustration: Maya Robinson/Vulture
It all began in 1989's Say Anything, when Lloyd Dobler demonstrated the depth of his feelings by lifting a boom box toward the sky.
That bold move was hardly the first over-the-top demonstration of love in a rom-com, but it was a defining one for the genre in the contemporary era. When Lloyd blasted a Peter Gabriel song in the direction of Diane Court's window, giving Generation X its version of a Romeo just beyond Juliet's balcony, Say Anything permanently established the power of the grand romantic gesture in the modern rom-com.
Over the years, that boom-box moment has become an enduring symbol of steadfast, albeit slightly stalker-ish, devotion that's been saluted in countless other movies and TV shows. It's also been satirized, perhaps most pointedly in a 2009 Saturday Night Live sketch in which Joseph Gordon-Levitt reenacts the famous moment while a pair of nosy neighbors keep interrupting. ("Did you try giving her flowers or something first?" neighbor No. 1, played by Jason Sudeikis, asks. "Okay, I get it now. You're trying to scare the hell out of her.")
That dual-faceted response to the quintessential Say Anything moment mirrors the mixed feelings many have about the grand romantic gesture. Depending on its context, the trope can make hearts flutter or prompt eye rolls, and sometimes it elicits both at the same time. As absurd and schmaltzy as such extreme onscreen displays of affection can be, they still haven't disappeared from film and television. Like the rom-com, they've evolved, developed a darker side, and — more on this later — even infiltrated reality.
So, what kind of behavior qualifies as a grand romantic gesture?
Simply confessing one's feelings in a heartfelt way does not, on its own, qualify. A grand gesture, as the name implies, requires something more demonstrative. Physical effort and/or a sacrifice of time, money, or pride are key, as is the element of surprise. Hugh Grant's "I think I love you" speech in Four Weddings and a Funeral is lovely, and much appreciated for its David Cassidy reference. But it's not a grand gesture. Billy Crystal as Harry racing across Manhattan to profess his love for Meg Ryan's Sally on New Year's Eve: That's borderline, but I'd call it a grand gesture because it catches Sally off guard and also involves so damn much running, in addition to speaking Nora Ephron's perfectly scripted When Harry Met Sally words. ("I love that you get cold when it's 71 degrees out.") Andrew Lincoln flipping through all those cards that spell out his passion for Keira Knightley in Love, Actually? Yeah, that's definitely a grand romantic gesture. (Also: creepy.) Basically any admission of feelings that requires audio or visual aids, singing or dancing, a dash through an airport, or the giving of an extravagant gift falls in GRG category.
In the '90s and '00s, the boom time for mainstream, multiplex-friendly rom-coms, such random public acts of unabashed adoration became a standard feature of the genre. In 10 Things I Hate About You, Heath Ledger sings "Can't Take My Eyes Off You" to Julia Stiles with backing from a marching band. In The Wedding Singer, Adam Sandler serenades Drew Barrymore on an airplane, with an assist from Billy Idol. In Never Been Kissed, Barrymore (again) announces her love for Michael Vartan in a newspaper column, then invites him to plant one on her in the middle of a pitcher's mound. This should go without saying, but there was also much, much rushing to or through airports to cement one's commitment back then, in straight-up rom-coms (Love Actually), movies slightly more com than rom (Liar, Liar), rom-coms mostly set in Jamaica (How Stella Got Her Groove Back), and indie rom-coms set in Jersey (Garden State). Even the more offbeat films in the genre often snuck in grand gesture moments, from Juno shoving endless orange Tic-Tacs into Paulie Bleeker's mailbox in Juno to Will Ferrell giving his baker-crush Maggie Gyllenhaal several "flours" in the underrated Stranger Than Fiction.
Television fell in love with the grand romantic gesture, too, inserting it into Friends (there was more than one key airport scene during that comedy's run), Gilmore Girls (remember Max and his thousand yellow daisies?), and How I Met Your Mother (Ted Mosby loved him some grand gestures), among others.
As the first decade of the new millennium gave way to the second and rom-coms started to become less of a force at the box office, it was natural to assume the grand gesture might fade away as well. Really, with security even tighter in the years following 9/11, how much longer were we expected to believe an airport rendezvous was even feasible anyway?
What happened, instead, was that our affair with the grand gesture shifted from "in a relationship" to "it's complicated." There was still a desire, on the part of creators and audiences, to see men and women really put themselves out there on behalf of the ones they loved. But having seen it happen so many times, a certain level of skepticism began to creep into the picture. In 2009's Up in the Air — a film that, as a society, we really don't talk about enough — the noncommittal frequent flier Ryan Bingham (George Clooney) falls for Alex (Vera Farmiga), a woman whose plane-hopping, rewards-program-coveting sensibilities match his own. Eventually, he takes a leap of faith and spontaneously hops on a flight to Chicago to visit her. George Clooney, making a grand gesture: This is the rom-com dream, people!
But — and I'll say spoiler alert here, even though, come on, this movie came out eight years ago — when Ryan arrives, he discovers that Alex is married, with kids, and doesn't want to see him. During a subsequent phone call, she explains that their relationship was just an escape for her, adding, in what has to be one of the harsher rom-com rejections in recent years: "You're a parenthesis." It's a heartbreaking moment for Clooney's character and a deflating, but refreshingly realistic one for the audience. We want to see Clooney, who spends most of this movie madly racing through airports, show up unexpectedly and sweep away the woman he loves. But the truth is that, like all rom-com grand gesturers, Ryan presumptuously assumes that Alex will drop everything and swoon over his efforts. She doesn't because she has responsibilities that she's never acknowledged to him, responsibilities that he also never bothered to consider.
Crazy Ex-Girlfriend, a show premised entirely on a grand gesture, threw cold water all over the dashing-through-the-airport idea by having Rebecca (Rachel Bloom) try to stop one-time lover Greg (Santino Fontana) from boarding a flight for Atlanta. When she arrives, instead of dropping everything so they can be together, Greg launches into a musical number in which he declares, "Let's get real/We know the deal/So darling let's not tiptoe/This thing we had, was not just bad/It was a shit show." Shit show is a term that didn't get used nearly enough in Julia Roberts movies.
The marriage proposal is a classic opportunity for a grand gesture. But on shows like You're the Worst, where popping the question on an L.A. hilltop leads to a potential bride being jilted well before the altar, and Catastrophe, where Rob's attempt to ask for Sharon's hand over a romantic dinner winds up with him offering a ring that a drunk woman just peed on, even that most sacred of grand gestures gets punctured as well.
It would be easy to conclude that grand gestures just don't work anymore. However, the (slightly) more pure — or at least less pissy — ones haven't gone extinct. In Trainwreck, when Amy Schumer puts on a Knicks City Dancer uniform and shakes her booty in an affirmation of affection for Bill Hader, it's a ridiculous scene, but it's also one that comes from a place of sincerity. Same goes for the "We Belong" kayak serenade that Fat Amy busts out for Bumper in Pitch Perfect 2. Like the Trainwreck basketball stunt, it's played for laughs. But the end result jibes with what we've seen in countless rom-coms: The grand romantic gesture concludes with the happy couple back together with a kiss.
To find grand romantic gestures that lean unapologetically into sentimentality, one doesn't have to look very far. Turn on just about any Hallmark Channel original movie, especially during the holiday season, and you'll easily find some. Or turn on This Is Us — a family drama that's got at least a couple of rom-coms baked into its crust — and you'll see Jack (Milo Ventimiglia), via flashback, surprising his wife (Mandy Moore) by buying a house, or Toby (Chris Sullivan) wooing Kate (Chrissy Metz) by literally rolling out a red carpet and convincing her to sing for a bunch of senior citizens. Seriously: Toby is a walking Cameron Crowe movie.
One of the most popular shows on television, The Bachelor, culminates every season with a grand gesture: the rose ceremony. Yes, a lot of people tune in primarily so they can crack jokes about all the Bachelor ludicrousness. But even the most jaded viewers might admit that they enjoy the pomp, circumstance, and orchestrated tears that often accompany that flower presentation. We like the grand romantic gesture so much that it's even been co-opted from rom-coms and incorporated into real life, as every flash-mob wedding proposal and elaborate invitation to senior prom demonstrates. (The promposal — which may be more about showing off than anything resembling love — has become such an American high-school tradition that MTV is, so help me God, planning a new reality series called Promposals.)
So it's not that we no longer appreciate a grand romantic gesture, it's just that we expect more from them. We want to be surprised, sometimes in a way that subverts our expectations and reflects the harshness of reality, and sometimes simply by how charmed we are by what we're witnessing. Even though we've grown savvier about how manipulative such moments can be, there's still part of us that, contrary to every cynical, world-weary bone in our bodies, still wants to look out the window and find our personal equivalent of a Cusack with a boom box.