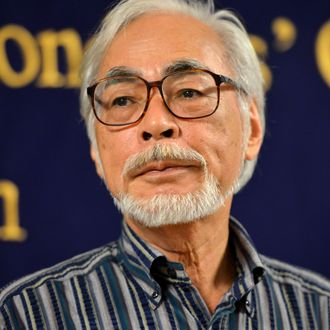 Hayao Miyazaki.
Photo: YOSHIKAZU TSUNO/AFP/Getty Images
Hayao Miyazaki, the writer and director behind Oscar-nominated animated films Howl's Moving Castle and The Wind Rises and the Oscar-winning Spirited Away (oh, and the winner in everyone's heart, My Neighbor Totoro), had announced in 2013 that he was retiring. "This time is for real," Miyazaki said. But now, his longtime producer Toshio Suzuki at Studio Ghibli confirmed during a pre-Oscars interview for the studio's short, The Red Turtle, that Miyazaki is once again working on a feature film. According to Kotaku, "After initially stepping away from directing features, Miyazaki began learning how to animate on a computer and was working on a CG short called Kemushi no Boro."
"Right now in Tokyo, he's putting all his effort into making it [the feature]," Suzuki said. Suzuki is producing the film, which the duo plans to have out before the 2020 Tokyo Olympics. No word on whether it will be CG, but we can assume it will be awesome.