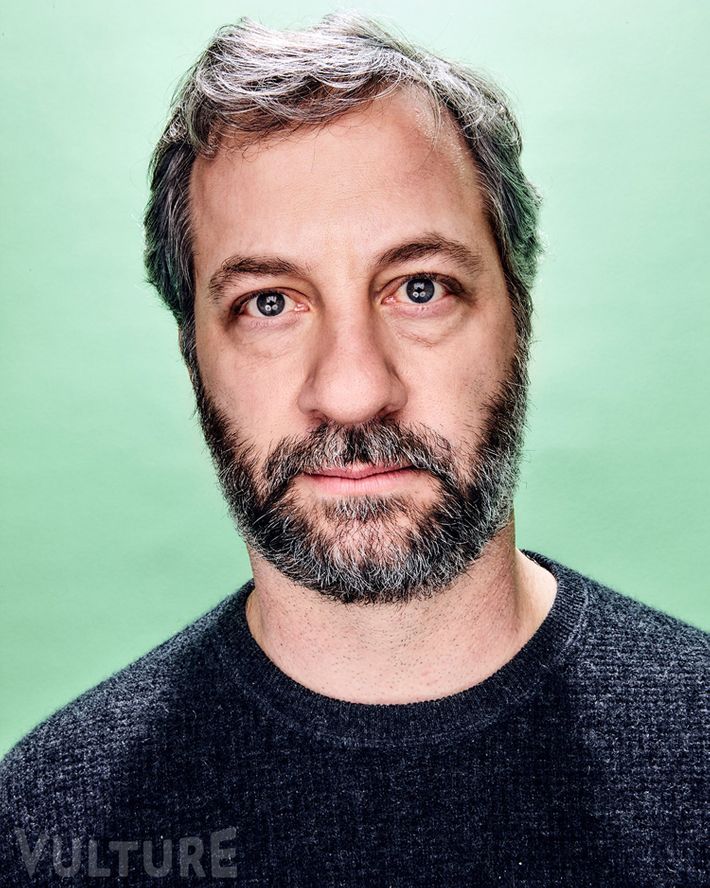 HBO's Crashing, executive produced by Judd Apatow and Pete Holmes (also starring and penned by Holmes), premieres February 19 at 10:30 p.m. In the half-hour series, Holmes plays a loosely autobiographical version of himself back at the beginning of his career. When he catches his wife cheating, the too-nice-guy fledgling comic winds up diving deep into the New York comedy scene and couch-hopping each night.
What's more, is that the show is actually grounded in said scene. Crashing was shot in the West Village in venues like the fabled Comedy Cellar, and each episode is stacked with cameos from actual comics (Artie Lange and Hannibal Buress, for example).
We hopped on the phone with Apatow to talk about Crashing and the comedy scene it's centered on, from his own stand-up roots to the stand-up legends that grace the series.
What's your very first memory of being obsessed with comedy?
I was obsessed with the Marx Brothers as a kid, and I'd buy every book about them and study them compulsively … I was fascinated by who they really were, and how those movies got made. Looking back, it seems super weird. [laughs]
I think I liked that they were chaotic and attacked all the rich, handsome people and I must have related to them in some primal way, which is probably why they were popular to begin with.
Your roots are in stand-up — you started in high school. What was so magnetic about the stand-up scene to you?
One summer my mom worked as a hostess at a comedy club in Southhampton. I went to see Paul Provenza perform, which was the first show I ever saw live which wasn't someone like Don Rickles. I had always been obsessed with comedy, but to see it in a club back then was so exciting because no one even understood what a comedy club was. I'd never been inside of one. This was in the early '80s, and it was all very new and people were excited about comedy in general. It was almost the new disco in a way; it was very trendy. And, I was always attracted to this idea that people could express themselves and complain about things – it helps us all process the weird feelings and experiences we were having. I just felt like one of them.
In a way, you're focusing back on stand-up through Crashing, paying homage to Pete Holmes's roots as well as your own. Is it almost like coming full-circle?
With stand-up comedy, in some ways I feel like everything else has been a detour. I love all of it, but that was the original dream. So, it's fun to be able to go back to it now that I've lived a life with a lot of weird experiences because now I finally have something to say. I didn't feel like I had much to say as a little kid doing it.
Crashing revolves around the New York comedy scene. What characterizes and defines it, and what makes it so special?
Well, I had always heard about this lifestyle comedians could have where they would just run around the city doing spots, and that always seemed really attractive to me. I was in Los Angeles at the time and there were only two clubs in the city … and if you played one, you weren't allowed to play the other when I was starting out. So, you know, if you're funny and you want to hustle, there's a lot of stage time to be had if you're good, or getting good. It's a very, very creative world between all the comedy clubs, improv clubs, and alternative rooms. I found it exciting. I was all of 18 and I could just start all over.
Speaking of these clubs, the Comedy Cellar is backdrop to several scenes in Crashing. What's a favorite personal experience/memory at the Cellar?
When we shot Trainwreck, I'd go in there every night and do stand-up after the day of shooting. One night, I got bumped for Ray Romano, and then I got bumped for Andrew Dice Clay, so I had to follow both of them. That's the kind of thing that only happens in places like the Comedy Cellar. As I was doing my act, Andrew Dice Clay just stood in the back of the room watching, which was both delightful and unnerving, because in high school, I was a dishwasher at the East Side Comedy Club on Long Island, and I used to watch Andrew Dice Clay when he first started doing stand-up, and he was always hilarious. In his earliest incarnation, he was very clean – he'd do impressions of John Travolta and people like that, and so it was fun to have that come full circle.
What was it like working with so many incredible comedians in Crashing?
One of the things that's fun about the show is that it's built to have a lot of guests parts. There's all these people we find hilarious, and some of them don't even act that much. Artie Lange hadn't acted in 14 years when we shot the pilot, and he's a really talented actor, but he's also very open about his life and his journey – he's a really giving person. The show gives opportunity to a lot of young performers and to people that have been around awhile. So many people are really hilarious and interesting, but not everybody gets an opportunity to show who they really are. Sometimes they don't fit the part of the show they're auditioning for, but here, it's tailored to who they really are.
What are you most looking forward to about the upcoming premiere of Crashing?
When Pete's talk show was canceled, I thought, 'Oh this guy is so ready for a big moment.' He's just couldn't be more filled with ideas and he already has enough experience to break through in a big way. And he's such a great actor. His life is an original one, with his journey from religious guy to comedy star; it's really fun and odd in a way that's enjoyable to watch. He's also such a good guy. A lot of the show is about a religious person navigating the dark world of comedy where there are a lot of temptations. Even though there are a lot of shows about comedians, there's some new terrain here about spirituality and growing up that we haven't seen before.
This is paid content produced for an advertiser by New York Brand Studio. The editorial staff of Vulture did not play a role in its creation.