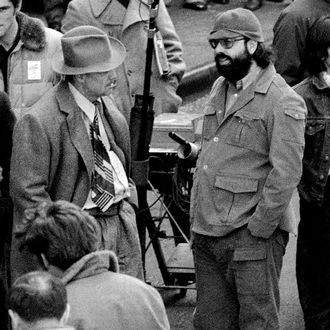 Photo: New York Daily News Archive/NY Daily News via Getty Images
This time, it's personal. Francis Ford Coppola was a young director when he was hired to direct The Godfather, and the studio gave him a hard time on nearly every decision during production. In a 1994 interview, Coppola described the experience as "nightmarish." Now, HBO Films is producing a script dramatizing the havoc behind the scenes. Titled Francis and the Godfather, the script was written by Andrew Farotte and made the 2015 Black List of best unproduced scripts. One of the original Paramount executives that worked closely with Coppola will also consult on the project, according to Variety. Here's the rest of Coppola's comments about stress from the studio behind the scenes from that old interview:
The Godfather was a very unappreciated movie when we were making it. They were very unhappy with it. They didn't like the cast. They didn't like the way I was shooting it. I was always on the verge of getting fired. So it was an extremely nightmarish experience. I had two little kids, and the third one was born during that. We lived in a little apartment, and I was basically frightened that they didn't like it. They had as much as said that, so when it was all over I wasn't at all confident that it was going to be successful, and that I'd ever get another job.
Coppola himself revisited the first Godfather movie's production last year, releasing a book of his massive production notebook.
HBO Developing Movie About Making The Godfather
Things you buy through our links may earn New York a commission.