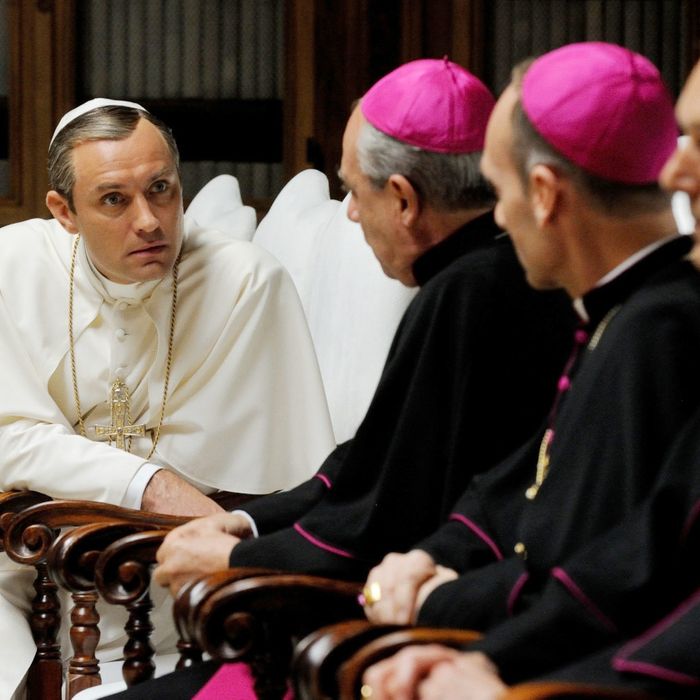 Jude Law as the Young Pope.
Before it launched, HBO executives didn't have particularly high hopes for The Young Pope, either in terms of critical reaction or audience response. Sure, it had a great cast (Jude Law!) and an Oscar-winning director (Paolo Sorrentino) attached, but the show wasn't a born-and-bred HBO original such as Westworld or the upcoming Big Little Lies. Instead, the network was a mostly silent co-producer of Young Pope, contributing to the show's international co-financing but leaving the creative heavy lifting to the Italian production company Wildside. And yet, despite modest expectations — or perhaps because of them — there's a strong case to be made that The Young Pope ended its first season Monday as a decent-sized win for HBO.
In terms of ratings, Young Pope hardly qualifies as a blockbuster, but it was far from a bomb: The network estimates each episode has been seen by an average of 4.7 million viewers across the network's various linear and digital platforms. That's a fraction of the audience the network's fall hit Westworld pulled in season one (11.7 million) and below the buzzworthy summer mini-series The Night Of (7 million). But it does puts Pope on par with an HBO comedy staple such as Veep and ahead of the far more heavily hyped — and ultimately unsuccessful — Vinyl (4.3 million). There's some evidence to suggest a sizable sliver of the show's audience sampled Young Pope and then decided to bail on it, or perhaps finish later (a relatively easy option in the streaming era). The Nielsen-supplied, linear-only audience figure for premiere telecasts of Young Pope dropped from 1.3 million for the January 15 pilot episode to 873,000 so-called "live plus three" viewers two weeks later, and just under 600,000 for Sunday's penultimate episode (which aired opposite the Grammys and the return of The Walking Dead). But given how HBO (and Showtime and Netflix) audiences now consume programming, as well as the fact that the series doesn't boast the sort of suspense-driven whodunnit-type story lines of a True Detective or The Night Of, the erosion in linear ratings isn't as worrisome as it might have been in the past. The 4.7 million multiplatform number indicates a sizable audience liked what they saw with Young Pope and remained invested.
Tune in, of course, is not the only factor HBO uses to gauge whether a show is a "success." Critical buzz is important, particularly if it results in Emmy and Golden Globe nominations. On that front, reviews of the Jude Law Vatican soap opera ended up mixed — but generally favorable. The series also became an internet meme before its first episode even aired. Of course, that's not entirely a good thing, given folks were mocking the show's over-the-top premise. But breaking through the clutter of Peak TV is a huge deal and can at least drive sampling of a show, particularly on digital platforms such as HBO Now. Better to be gently teased than totally ignored (sorry, Roadies).
Finally, the best argument to be made in favor of Young Pope being an unexpected victory for HBO is this: The network, according to a person familiar with the situation, acquired U.S. rights to the show for a relative pittance. HBO usually spends millions of dollars per episode to develop and produce a one-hour drama, with Game of Thrones flirting with $10 million an hour. Vulture's sources, however, suggest Young Pope cost HBO less than some of its cheapest half-hour comedies, with the network's license fee for the series said to be somewhere in the six-figure-per-episode range. And while the network put some marketing muscle behind the show's launch, the spend was modest compared to other series campaigns. Now, HBO doesn't run commercials, so there's not a direct link between how much money it spends on a show and what it recoups in ad sales. But the limited financial (and even emotional) commitment the network made to Young Pope means HBO didn't risk a whole lot to put the show on the air in the U.S. Given the solid ratings and reviews, HBO's investment seems to have more than paid off. While this doesn't guarantee there'll be a second season of The Young Pope— Sorrentino has indicated he's eager to do more episodes — it does mean a sophomore outing wouldn't be at all surprising.