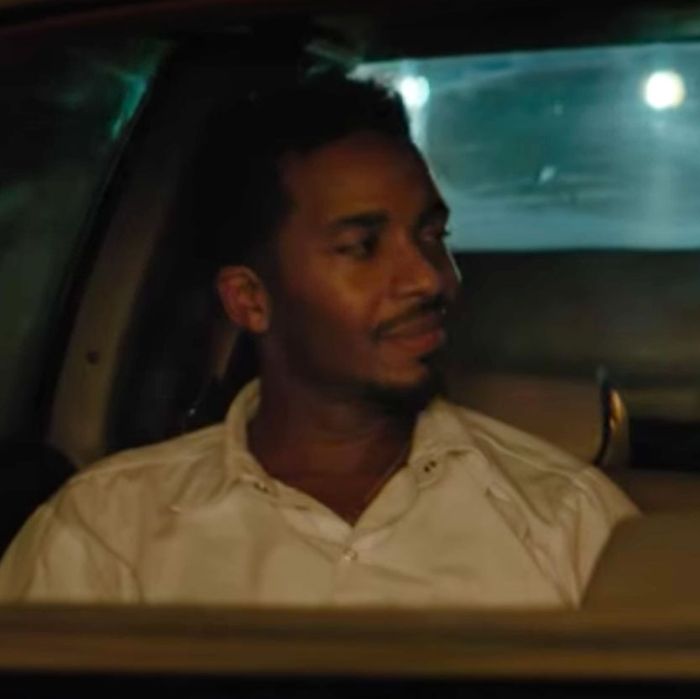 André Holland as Kevin, and Trevante Rhodes as Black.
In the second-to-last scene of Moonlight, the lead character takes a car ride with the man he loves. It's a simple setup, but in Moonlight it's one of the most plainly intimate sequences of the film. It's taken the hero Chiron (at this point in the movie, he's rechristened himself as "Black") an entire movie to figure out how to be loved, so his dinner with his childhood best friend Kevin is an especially meaningful climax — Black (played by Trevante Rhodes) wants desperately to let himself be loved by Kevin (André Holland), but he's not sure how.
After reconnecting over dinner in Kevin's diner, the two men shuffle out to Black's car, a Chevy Impala that fits his new life as an Atlanta drug dealer. Then, his stereo plays a surprisingly familiar song: a chopped and screwed remix of "Classic Man," the R&B singer Jidenna's summer 2015 anthem. The track gives Black a helpful facade, a smoothness he hopes will cover up how much he longs for Kevin and his love. Black is hiding in this music, and Jidenna's song couldn't have been a more appropriate choice. And, partly because I want this mix for myself, I asked Jidenna what he thought about the use of his song in the scene.
Jidenna said he was skeptical when the movie's production team reached out about using the record. "I knew Moonlight had an unbelievable depth of meaning. 'Classic Man' does too, but I couldn't imagine this bouncy fun-ass record being placed in such a pivotal scene," he said. "But to hear it screwed at that place in the story was masterful."
The car ride where the two men listen to "Classic Man" bookends an earlier scene; as teens, Kevin gave Chiron a ride home after they hooked up on a beach. Now, as adults, Black drives their encounter forward in a way Chiron couldn't. There's still a lot of distance in that present-day Impala though: between Black and Kevin, Black and Chiron, and between every one of Moonlight's men and the hood's hypermasculine machismo. Part of Chiron's trouble is that he doesn't have words for how heavy his heart feels sometimes. Doesn't "Classic Man" communicate the same kind of disconnect?
"I've been saying this for over a year now," Jidenna told me. "'Classic Man' is less about fashion than about the character. It's great that Moonlight matched that: This character was trying to find himself. I love that Moonlight is essentially about what it means to be a man in the neighborhood, in society, and it just so happens that the main character loves this other man."
But this time, Kevin notices the disconnect. "So Chiron — what, you just drove down here?" he asks pointedly. Black avoids his gaze and mumbles a yes. When Kevin asks where Black will sleep that night, his defenses come back up. He turns up the volume on "Classic Man," and they both sit in that moment of suggestion, that maybe all that aching and all that yearning can really mean something, that Black can let himself feel someone else's love. (Though it's a perfect cinematic moment, it wasn't the first choice: Moonlight's script initially called for Slim K's "Purple Haze" remix to fill up the car's silence.)
"There's very little dialogue in that movie. The space is filled up with silence, whether it's a comfortable silence or an uncomfortable silence," Jidenna says. "Classic Man" fills up one of those silences. "There's a certain beauty in how these characters interact. For an American film to not fill up the space with action — that's pretty remarkable."
He's right — that's one of the reasons I love this scene so desperately. I was late to the buoyant allure of "Classic Man," queuing it up at parties months after it had dropped out of everyone else's rotation; I felt vindicated that Moonlight heard and adapted its gentleness. Distorting a song that subverts machismo — "I'm a classic man, even if she go away" — has a delicious irony. I want the track for myself. I'm tired of replaying a subpar version of the mix on YouTube.
Jidenna wants it too. "I didn't screw it myself! It sounds good," he said with a laugh. "The other day, even I was thinking that I'd rather perform that version over the regular."