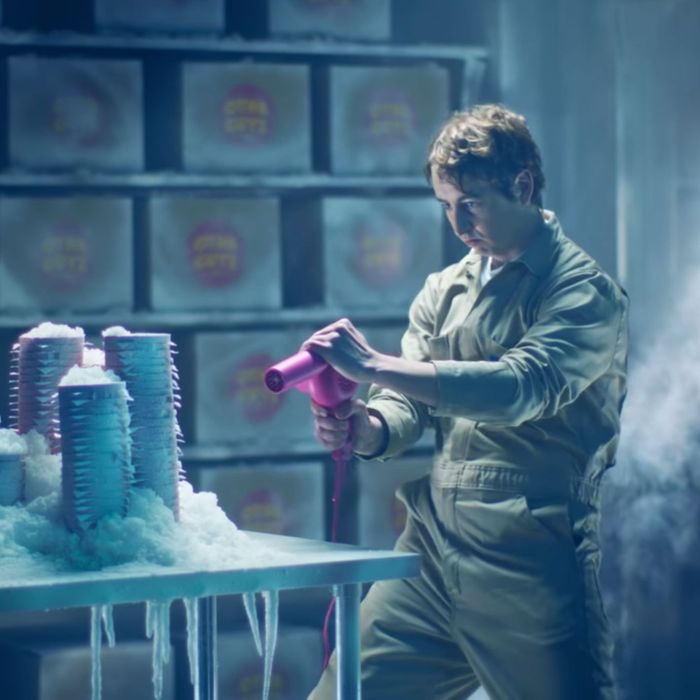 You don't want these patties.
Let's be honest — some of us are way more excited for the Super Bowl commercials than the game itself. Companies have already started releasing their ads online, and they're using everything from celebrity appearances and cute kids to commentary on the wage gap to grab our attention. But these commercials all have one major thing in common — background music. Jordan Passman, CEO of the L.A.-based licensing company Score a Score, knows that the right song makes or breaks a TV commercial and can mean big bucks for the artist. He spoke with Priska Neely, a reporter for Southern California Public Radio's arts and entertainment podcast The Frame, about the music that 2017 commercials are bringing to the table. (Read a transcript of Neely and Passman's interview below and subscribe to The Frame at iTunes or Stitcher.)
You wrote a piece for Forbes about how advertisers are using music in Super Bowl commercials, and you put those into a few categories. One of those is "throwback jams," and I think in that category Wendy's is winning.
I think so. I think that they had an incredibly spot-on take on what it was to be just completely on the nose. And sometimes that works, sometimes that doesn't. But I think, for comedy's sake, a lyrical hit is perfect.
And for people who may not have seen it, explain what's going on in the commercial.
The Wendy's spot starts with a huge freezer of frozen patties, because a lot of their consumers think that they freeze their patties, and they don't. So what happens is that there's a guy with a hair dryer who's defrosting these patties, and it's kind of gross. And they're setting the tone with nothing better than "Cold As Ice" by Foreigner.
Okay, so break down the other categories that you observed for us.
One was the throwback jams, like you mentioned. The other would be just a contemporary hit, from John Legend for Pepsi to Sia for Lexus and Imagine Dragons for Nintendo. And then there's the timeless orchestral approach, which is not necessarily a famous song, but it's something that feels very organic in instrumentation and can drive emotionally, like in a way an orchestral score would for a cinematic film.
Yeah, and you mentioned Imagine Dragons. So they actually have a pretty much brand-new song that's being featured in a Nintendo ad.
Nintendo is actually debuting their first-ever Super Bowl commercial this year, which is a pretty big deal, for their new Switch, which is going on sale in March. And Imagine Dragons released their single the same day that this ad came out [Wednesday].
There are a lot of factors that make ads work, and obviously music is a big component. How much does it cost to license music in a commercial for this huge game?
Licensing costs are always variable to the terms of use that they're licensing from. So sometimes they'll just license for one day, to be as cheap as possible, and other times they are wanting to run the ad for a year. And it will obviously be more expensive. So things that effect the price are territory and exclusivity or nonexclusivity. For these examples, all the throwback jams I'd say are going to be in the mid- to high-six-figures range. And I think some of the pop hits could be even as high as seven figures.
Obviously it's a huge stage, do musicians usually see a big boost in their sales or streaming numbers after they're featured in a commercial like this?
Absolutely. I mean, it's so rare to have that many eyeballs on broadcast television these days. I think a lot of people are turning to YouTube and paid ads there because they see that so many people are there. But when you have an opportunity like the Super Bowl, where people are genuinely excited to watch the commercials and they're not going to fast forward through them, I mean, that's such a unique opportunity for brands and bands, and anybody that makes music for the commercials.
Now, is this an actual slice of the music business? Are there people at music-publishing companies whose job it is to market their clients to advertising?
Absolutely. It's one of the healthiest parts of the music business, actually, is what we call "getting a sync license." Which basically just means placing a song for advertising, you know, film trailers, film, TV, video games — anything like that is really a great part of the music business.
So when you tune in, or if you tune in, will you be watching for the game or the ads?
I think I'll be watching for the ads, and then I'll be watching for the food, and then I'll be watching for the game.