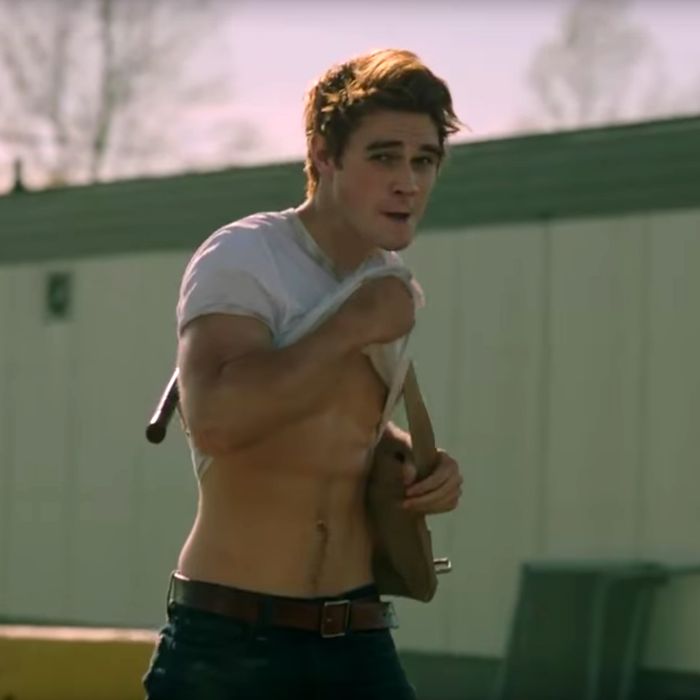 K.J. Apa as Archie.
Photo: CW
The Riverdale casting directors sure saw a lot of redheads while they were looking for their lead to play Archie Andrews. "I think we literally saw every redheaded young guy in L.A. It certainly felt that way," said Roberto Aguirre-Sacasa, the executive producer of Riverdale. "Every time that a redheaded guy came in, my heart swelled a little thinking, Let this be the redheaded boy who is the answer to all our prayers."
Well, they didn't find a natural redhead, but they did find their Archie in the form of K.J. Apa, the half-Samoan, full-Kiwi 19-year-old actor. Riverdale, a sultry, brooding, and libidinal take on the Archie comics, needed a leading man who could channel that sweet and slightly sinister energy. "Archie is going to have some darkness and a little more brooding, but you didn't want that to take over everything," said Aguirre-Sacasa. "You wanted a sense of that underneath and on the edges of that performance, but not a joyless vampire. So you had to have the right mix of edge and earnestness, and be able to handle the brightness of Archie, but also the depth of a kid who is really struggling with stuff."
Finding Apa was the most difficult part of a six-month casting process that began before the pilot had even gotten officially picked up from the network. They had cast all of their series regulars in the meantime: Lili Reinhart as the blonde and wholesome Betty, Camila Mendes as the posh brunette Veronica, and Cole Sprouse as the intense and observant Jughead. "We were getting, frankly, scared, because there would be no pilot if we didn't find Archie," said Aguirre-Sacasa. "We found K.J. three days before we were supposed to test Archies in front of the studio. So he was really slotted in at the last minute."
Apa had first auditioned earlier for casting director David Rapaport, but something was amiss with that audition. Rapaport had told Aguirre-Sacasa that when he had seen Apa, the actor had just arrived after a 12-hour-plus plane ride, and that he hadn't been properly prepped beforehand. "I'd just come over from New Zealand, and Riverdale was my first audition," said Apa. "So I remember going to the studio, auditioning with Dave, and it was kind of nothing. Nothing was really there, nothing happened."
But Rapaport decided to bring him in again to read for other writers and producers, including Aguirre-Sacasa. "K.J. read for us and he was immediately Archie Andrews," said Aguirre-Sacasa. "It was the right combination of earnestness and edge. And he played the guitar like a dream."
Apa was better prepared for his audition this time around, bringing his electric guitar with him and doing Stevie Ray Vaughan's version of "Mary Had a Little Lamb." "There were a couple Southern people in the theater so I brang my guitar," Apa laughed. "I felt really confident after I played that song, because music comes really naturally to me and it's always something I've been really passionate about."
The network loved him, too, but there was one final hurdle: his hair. "It's the dreaded day, because we have to dye this guy's hair and pray to God that that works, because, you know, some people's dye jobs look weird," said Aguirre-Sacasa. The director of the first three episodes, Lee Toland Krieger, however, knew the "colorist to the stars" who does Amy Adams's hair. She had to dye everyone's hair: Lili Reinhart had to go blonde; Cole had to go black; and of course, Archie had to go red. "We were all literally waiting for pictures to be texted to us from the salon, and now it's hard for me to even think of K.J. as anything other than a redhead."
That rust color doesn't come without its cost, though. "It's pretty gnarly, man," said Apa. "It was really painful the first and the second time I got it done, because they do my eyebrows as well. They ended up bleaching my eyebrows, and I had two holes — they burnt into my skin. I was like, Oh, my, we've got to sort this out." To maintain the color, he goes to the salon every two weeks for touch-ups. "I'm sitting there for at least two-and-a-half hours, so I'm on my iPad and I read some scripts and stuff. I keep myself entertained."
All right, but you're thinking: Did he take off his shirt during auditions? (He did not.) As people have vociferously noted on the show, on Twitter, and on Tumblr: Archie Andrews is hot. He's so hot that his body becomes a plot point in the pilot when Betty and her gay best friend Kevin catch a peek of Archie's abs from her bedroom window (they're neighbors, naturally). "Game changer: Archie got hot!" Kevin gawks with the suppressed glee of a thousand issues of Tiger Beat. Archie, you see, had apparently worked construction over the summer with his dad, thus blessing him with the body of an Instagram thirst trap. (As for Apa, if you take a scroll through his Instagram, it's clear that he's been looking like this for a while.) According to Aguirre-Sacasa, having a hot Archie was a way for him to make sense to modern viewers. "It felt like one of the things we had to try to answer from the comics books," he said. "Why would these amazing, gorgeous women be falling for this kind of vanilla, edge-less, fine-looking guy?"
In keeping with the rest of Berlanti universe, everyone in the cast is stunning, but for Riverdale, the hope was to convey the burgeoning sexuality of teendom. "Of course, they are all beautiful to look at, but for me, what I wanted more was a sense that the characters had a ripe sexuality," said Aguirre-Sacasa. "Like they were all kind of on the cusp of transitioning from teenagers to young adults. It's almost like the 1950s pinup girls, or the guys that were, like, a little bit like Physique Pictorial. There was a sexual energy to them that I look for, more than, like, Oh my God, is this kid TV pretty." Fortunately, they managed both.