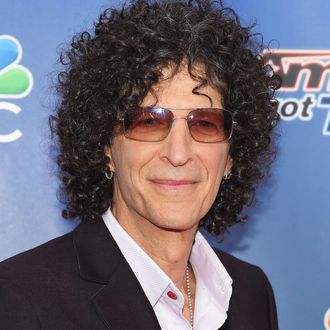 Friends look out for friends.
Photo: Michael Loccisano/Getty Images
Before he ran for president, Donald Trump was a frequent guest on the Howard Stern show, where he happily discussed everything from his daughter Ivanka's attractiveness to sneaking backstage during Miss Universe competitions. Now, as Trump has moved into the Oval Office office and started to issue widely unpopular executive orders, Stern worries that Trump is unprepared for the attention. "I personally wish that he had never run, I told him that, because I actually think this is something that is gonna be very detrimental to his mental health too, because, he wants to be liked, he wants to be loved," Stern said on his radio show on Wednesday. "He wants people to cheer for him."
"I don't think it's going to be a healthy experience. And by the way, he's now on this anti-Hollywood kick," Stern continued, noting Trump's continuing feud with everyone from Meryl Streep to the cast of Hamilton. "He loves Hollywood. First of all, he loves the press. He lives for it. He loves people in Hollywood. He only wants to hobnob with them. All of this hatred and stuff directed towards him. It's not good for him. It's not good. There's a reason every president who leaves the office has grey hair."
Before the election, Stern said that he would not dig up old, possibly damaging interviews with Trump, though he himself was a Hillary Clinton supporter. On his show, Stern said that he still doesn't know exactly what motivated Trump to run, especially since his political views seemed relatively more moderate beforehand. "I think it started out as like a kinda cool, fun thing to do in order to get a couple more bucks out of NBC for The Apprentice, I actually do believe that," Stern said. Later, he expanded his theory: "He just wanted a couple more bucks out of NBC, and that is why Donald is calling for voter fraud investigations. He's pissed he won. He still wants Hillary Clinton to win. He's so fucking pissed, he's hoping that he can find some voter fraud and hand it over to Hillary." Or, if Trump really is so obsessed with Apprentice ratings, he could always take up Arnold's offer for a fun little presidency switcheroo.