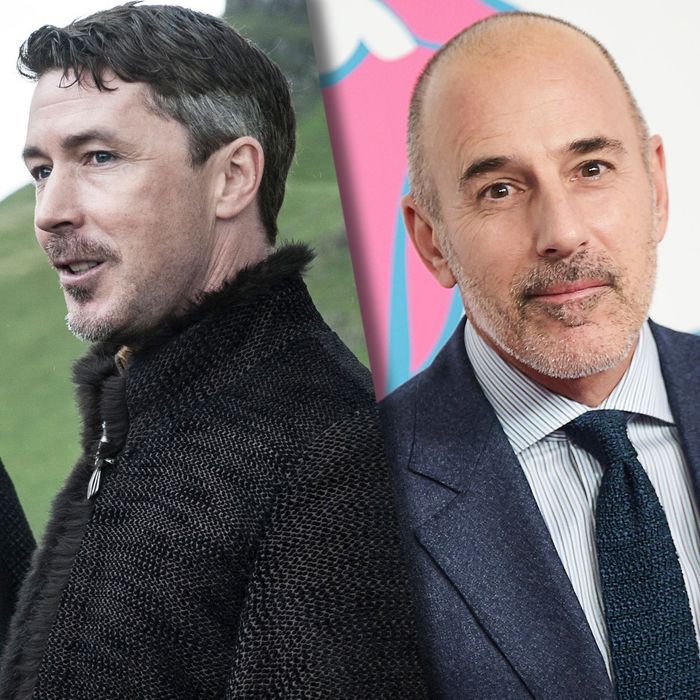 There's only one place on Earth more ruthless than Game of Thrones' fantasy land of Westeros. Fortunately for us drama connoisseurs, this real-life underworld isn't in its off season, and it normally starts broadcasting before the sun rises — we're talking about NBC News, and specifically, the Today show. Megyn Kelly's ascension to a top perch at the network, by most accounts, ushered in a dramatic bit of anchor shuffling that's left a Thrones-worthy body count. "It's like Game of Thrones over there," a source told Vanity Fair's Sarah Ellison. "You just don't see anything coming until your head is chopped off."
Let's say, for argument's sake, that what's going on at Today (and, by extension, NBC News) is akin to the jostling over the Iron Throne. Which denizens of 30 Rock land in what Thrones house, and who is each person's Thrones equivalent? Let's explore.
Matt Lauer, Littlefinger (Petyr Baelish)
While NBC executives might claim the longtime Today anchor is a hero's hero like Eddard Stark, you can just look at Lauer and see that's not true. Like Littlefinger, Lauer is powerful, despite his bruised image: While Baelish has had to overcome his tarnished brothel money and a sham marriage, Lauer's likability suffered after the very public ouster of his former co-anchor Ann Curry — "a move that Lauer at the very least condoned and, by some accounts, helped orchestrate," Ellison reports. Still, both men remain superpowers with a peculiar authority. Like Baelish, Lauer doesn't sit on the throne, yet he remains at the nexus of power because people at the top rely on him, despite his unpredictability.
Megyn Kelly, Daenerys Targaryen
No, Megyn Kelly is not Cersei Lannister. She wishes. The former Fox News anchor is closer to Daenerys: good at conquering bad guys and controlling the news cycle, but remains untested when it actually comes to ruling NBC. (Also: Kelly, like Daenerys, has been on the receiving end of several critiques, mainly of her not-quite feminism.)
Kelly Ripa, Cersei Lannister
I know what you're thinking: No, not Kelly! But when the Live! host was pissed about not being tipped off about Michael Strahan's move to Good Morning America, she didn't have to pull a Cersei and kill off all her enemies in a surprise wildfire attack. Ripa just took a personal day. (If that's not a power move, I'm not sure what is.) Megyn Kelly is probably looking to loosen Live!'s grip on the 9 o'clock hour, but Kelly Ripa is still sitting on the Iron Throne.
Ann Curry, Catelyn Stark
Remember her? In the early days of Thrones, the Stark matriarch was quick-witted and determined. It almost seems like Catelyn's death during the infamous Red Wedding was a more gracious exit than Curry's ouster. Curry cried on air, and after she'd been replaced Ellison recalls an offhand remark Al Roker made during an interview with the Olympic rowing team: He suggested Today's team tradition was to throw someone under the bus.
Savannah Guthrie, Sansa Stark
Sansa Stark and Savannah Guthrie are similarly yoked to the same smarmy superpower: Matt Lauer, a.k.a. Littlefinger. Both women are powerful, likable, but ultimately uninterested in ascending to the highest echelons of power.
Billy Bush, Ramsay Bolton
It's a fact universally acknowledged (and confirmed by Ellison's report) that everyone at Today hated Bush. And then, like clockwork, they finally had a reason for him to resign: the Trump tape. Bolton was similarly disliked, and eventually killed off.
Tamron Hall, Margaery Tyrell
As Today's first black woman co-host, Tamron Hall came poised to add a much needed influx of youth and diversity to Today. Margaery Tyrell isn't a woman of color, but she certainly brought a new perspective to King's Landing. Both women — fan favorites! — were unceremoniously dumped: Tyrell was killed in Cersei's orchestrated wildfire attack, and Hall resigned after she realized she was being pushed aside to make room for Megyn Kelly. "Even after the announcement, as rumors surfaced that Kelly would likely take over part of NBC's morning lineup, 'no one said anything to her' about plans for Hall's own future," Ellison reports, nothing that a source at NBC denies this timeline.
Noah Oppenheim, Tyrion Lannister
Formerly the executive in charge of Today, Oppenheim has now been promoted to president of NBC News. As a key behind-the-scenes player, his closest equivalent is Tyrion. And, at least for people who know that he wrote Jackie (the movie for which Natalie Portman is nominated for an Oscar), he's a fan favorite. Yes, because time is a flat circle, this all comes back to how underrated Jackie is.