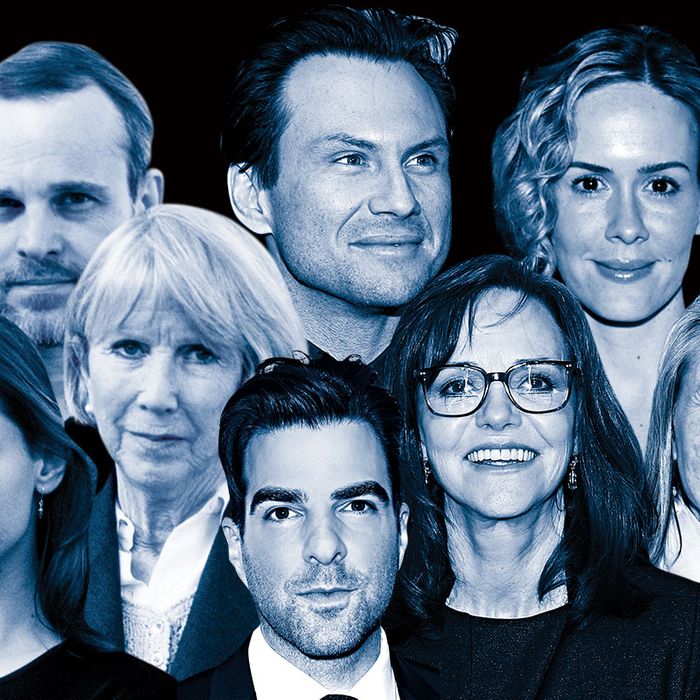 The Glass Menagerie offers four plum roles, attracting stellar casts. Of the seven previous Broadway productions, which foursome would be the all-time greatest? Consulting reviews and experts, we investigate.

The Production: Opening March 9, 2017
Amanda: Sally Field
Tom: Joe Mantello
Laura: Madison Ferris
Gentleman Caller: Finn Wittrock

The Production: Opened September 26, 2013, 173 performances
Amanda: Cherry Jones
Tom: Zachary Quinto
Laura: Celia Keenan-Bolger — Winner!
Three of the leads in this production earned Tony nominations, and the fourth — Zachary Quinto — was described by the Times' Ben Brantley as "the finest Tom I've ever seen." For our dream team, we'll select Keenan-Bolger. As New York wrote, she is "revivifying an iconic role. She is the show's soul and organizing principle."
Gentleman Caller: Brian J. Smith

The Production: Opened March 22, 2005, 120 performances
Amanda: Jessica Lange
Tom: Christian Slater
Laura: Sarah Paulson
Gentleman Caller: Josh Lucas

The Production: Opened November 15, 1994, 57 performances
Amanda: Julie Harris
Tom: Zeljko Ivanek
Laura: Calista Flockhart
Gentleman Caller: Kevin Kilner — Winner!
Brian J. Smith in 2013 was lauded, John Heard in 1983 got mixed reviews, and the Paul Rudd in 1975 is not the Paul Rudd you're thinking of. But we'll pick a dark horse: Kevin Kilner, a matinee-handsome take on this dreamy (literally) role, described by one critic as "the real discovery of this production."

The Production: Opened December 1, 1983, 92 performances
Amanda: Jessica Tandy
Tom: Bruce Davison
Laura: Amanda Plummer
Gentleman Caller: John Heard

The Production: Opened December 18, 1975, 77 performances
Amanda: Maureen Stapleton
Tom: Rip Torn — Winner!
With apologies to Zachary Quinto, our dream-team slot for Tom goes to a young Rip Torn, whose virile take was widely celebrated but also highly polarizing. Critic Roger Boxill, in an essay on the play, described Torn's portrayal as "a wild, brooding, quirky, homosexual Tom who flung his words at the house like accusations." Among critics, "those who attacked it were inclined to do so without reserve; others were as absolute in their esteem."
Laura: Pamela Payton-Wright
Gentleman Caller: Paul Rudd

The Production: Opened May 4, 1965, 175 performances
Amanda: Maureen Stapleton
Tom: Pat Hingle
Laura: Piper Laurie
Gentleman Caller: George Grizzard

The Production: Opened March 31, 1945, 563 performances
Amanda: Laurette Taylor — Winner!
This role, sometimes called the King Lear for actresses, has inspired iconic performances, from Jessica Tandy (who'd previously originated the role of Blanche DuBois on Broadway) in 1983 to Cherry Jones in 2013. But the pick here has to be Laurette Taylor, the stage legend whose career was revived by this role. The New Yorker once called her performance "the greatest ever by an American actor." Maureen Stapleton, who later played Amanda twice, praised her as "perfect." In 1945, a critic agreed: "I never hope to see again, in the theater, anything as perfect."
Tom: Eddie Dowling
Laura: Julie Haydon
Gentleman Caller: Anthony Ross
*This article appears in the February 20, 2017, issue of New York Magazine.