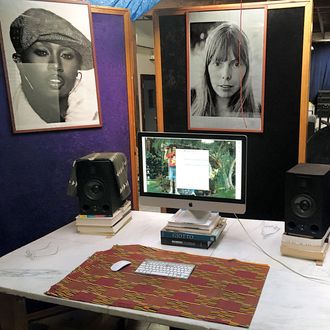 David Longstreth's studio.
Photo: Courtesy of David Longstreth
When the Dirty Projectors front man David Longstreth set up his studio in L.A. to work on his new self-titled album, he had two things on his mind: change and stability. So he started by erecting a shrine to his teenage musical idols as a reminder of who he was and who he might still like to become. "I was looking for all kinds of advice, you know?" says the 35-year-old singer and guitarist. He settled on an eclectic holy trinity — Missy Elliott, Joni Mitchell, and Beethoven — to watch over his sound mixing. But his wall of fame is constantly changing — Miles Davis, Stravinsky, and the 12th-century saint and musician Hildegard of Bingen have all cycled through — with Mitchell as the only permanent occupant. "She knew herself really early on," he says. "The music that she's made attests to this curiosity about life and music and a willingness to just keep growing." In addition, the setup is mobile: The desk has wheels, and the walls are nothing but ten-foot sound baffles. When he needs a change of scenery, he just moves the desk. "I'd hit a wall and think, What can I do to get beyond it?" he says. "Well, maybe start by just reconfiguring the space. You can trick yourself, in a good way."
*This article appears in the February 20, 2017, issue of New York Magazine.