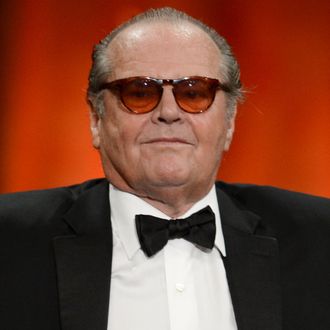 Photo: Kevin Winter/Getty Images
Filmmakers behind the German movie Toni Erdmann are heading to the Academy Awards at the end of this month to see if they can catch Oscar lightning in a bottle, and now they've got another affirmation of their film's success. Variety is reporting that Jack Nicholson has signed on to play the title character in an already-green-lit American remake that tells the story of a father trying to reconnect with his daughter the good old-fashioned way: by creating an alter-ego and pretending to be a life coach for her CEO. Kristen Wiig will star opposite Nicholson in the role of his tightly-wound businesswoman daughter. The English-language version is being developed by Gloria Sanchez Productions, the female-focused offshoot of Adam McKay and Will Ferrell's Gary Sanchez banner. Toni Erdmann is not only an Oscar nominee for Best Foreign Language Film, but was given the distinction by Vulture of having the best nude scene of any movie in 2016. It's also the first screen role for Jack Nicholson since the rom-com How Do You Know from 2010.
Update February 9: The film's production company Komplizen Film and director Maren Ade have distanced themselves from reports of a remake, saying that they were "in negotiations" for a remake but that no deal had been signed, contrary to previous reports, and adding that if there ever is a remake, they will not take an active role. "We're very happy with our film the way it is," Komplizen Film partners Janine Jackowski and Jonas Dornbach said in a statement to THR.