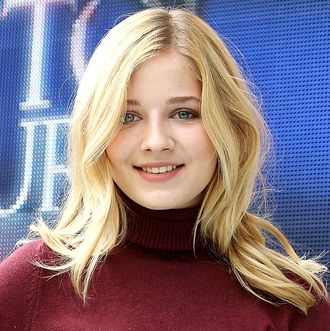 Photo: Paul Morigi/Getty Images for Capital Concert
Despite the fact that Donald Trump said less than a year ago that trans people should be permitted to "use the bathroom they feel is appropriate," it was reported today that his administration has revoked the right of transgender students to use bathrooms corresponding with their accurate gender identity. In May of last year, Barack Obama instructed public schools to let kids use facilities that matched their gender identity. The guidelines he issued had been put on hold by a federal judge, but today the Trump White House fully withdrew them. Some activists have gathered near the White House to protest Trump's action, and a surprising detractor has cropped up on Twitter. The singer of the National Anthem at Trump's inauguration, Jackie Evancho, is asking the president to reconsider his administration's position on trans rights. Evancho also has a personal stake in the decision, as her sister is trans.
Trump has already decided on his 2020 campaign slogan — it's the same as the logline for The Purge: Anarchy — and since he's such a planner, one could assume that he's already planning who will sing the National Anthem at his next inauguration, and that it won't be the teenage dissenter Evancho. Sad!