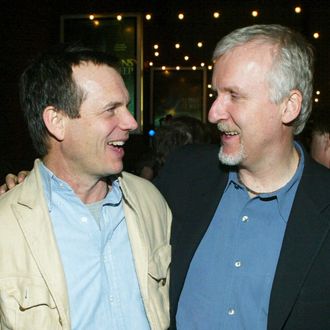 Bill Paxton and James Cameron.
Photo: Matthew Simmons/Getty Images
When news surfaced of Bill Paxton's death at the age of 61, Hollywood immediately responded with tributes to and memories of the resoundly respected actor. But one figure has been harder hit by Paxton's death than most: longtime friend and frequent collaborator James Cameron. Cameron — who worked with Paxton on The Terminator, Aliens, True Lies, Titanic, and the undersea documentary Ghosts of the Abyss — met Paxton years before their professional relationship began in proper, as both built sets for Roger Corman. There, a 36-year friendship was formed, one that Cameron has now reflected on in a letter given to Vanity Fair. In it, Cameron remembers Paxton as "a good man, a great actor, and a creative dynamo."
I've been reeling from this for the past half hour, trying to wrap my mind and heart around it. Bill leaves such a void. He and I were close friends for 36 years, since we met on the set of a Roger Corman ultra-low budget movie. He came in to work on set, and I slapped a paint brush in his hand and pointed to a wall, saying "Paint that!" We quickly recognized the creative spark in each other and became fast friends.
With Paxton's death becoming public knowledge the same day as the Academy Awards, Cameron adds, "I hope that amid the gaudy din of Oscar night, people will take a moment to remember this wonderful man, not just for all the hours of joy he brought to us with his vivid screen presence, but for the great human that he was." Read his tribute in full here.