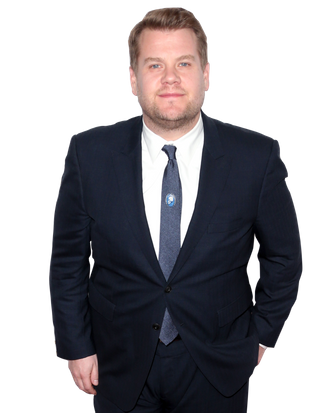 On February 12, James Corden will host the Grammys for the first time, replacing the night's perennial emcee LL Cool J after five consecutive years on the job. But before the Late Late Show host can shift his focus to the impending Adele-Beyoncé Super Bowl, he's got a to-do list that would dizzy even the savviest multitasker. Two weeks before Grammy night, Corden hopped on a flight to New York to film Ocean's 8 with Sandra Bullock, headed back to L.A. to tape the Late Late Show, vlogged his travel back to New York (for more Ocean's 8) to shame Donald Trump's Muslim ban, then caught another flight back to L.A. for last-minute Grammy prep.
On a rare break during the mania, Corden spoke with Vulture about whether he'll do Carpool Karaoke at the Grammys, getting political on late-night TV, and why he probably won't host the Tonys this year.

Aside from the Late Late Show, Americans know you best for hosting the Tonys. But you're a seasoned host of the Brits, which are England's Grammys. Have you experienced any overlap between the two so far?
The Brits tend to play the whole thing pretty straight, actually. I think it shares this with the Grammys; it's not really a room for comedy. The strange thing about the Grammys is it's not really a traditional hosting gig like the Oscars, Emmys, and Tonys are. It's in the Staples Center, in this big arena, and there are these unbelievable music performances. So what's the job of the host, really? It's essentially to usher the evening for the audience at home. If there wasn't an audience at home, this could all very easily happen without a host.
You've said there wasn't enough time to pre-film a Carpool Karaoke for the show. Would you possibly stage one during the live broadcast? Stretch that theater muscle?
The truth is I'm only really in the show for something like 18 minutes. The show's three and a half hours long, but when you take out commercials, the music performances, and the actual presenting of the awards, you're only left with like 18 minutes. It's difficult to find the time to do many things like that. But we'll see what we can do.
We lost so many music icons in 2016, one of which you were close to: George Michael. Is there a tribute planned?
That would be a question for the producers, but I don't think they've even got the running order sorted out yet. Logistically, it's very hard. We know who's going to perform, it's just a matter of where and when. Some artists have bands and dancers, so one can't be followed by the other because it can't fit in that space in that amount of time. It's a hard show to figure out.
Who would you want to do the tribute to George Michael, if there is one?
Ultimately, you just want it to be done by someone who's a fan and truly loved him.
For the past few years, the Grammys have mashed up artists at random for duets. Will you be part of one this year?
I don't think anybody wants to see that. That would be a huge mistake to even try. [Laughs]. It'd be horrific for the audience.
You're not hosting the Carpool Karaoke spinoff for Apple Music. How involved will you be?
I shot one episode with Will Smith, and I might shoot one other one. But mostly, I just don't have the time because we're still gonna do Carpool Karaoke on our show. I really feel like this new show will have some interesting pairings — Alicia Keys and John Legend, Billy Eichner and Metallica, Blake Shelton and Chelsea Handler, Seth MacFarlane and Ariana Grande — then we'll still do it more intimately with me on our show from time to time.
How will you make your original version stand out?
Well, the one on Apple Music will be a series and each episode will be about 25 minutes long. We're about to reach our 300th Late Late Show and we've only really done Carpool Karaoke like 24 times out of that. So from time to time, we'll do it and it'll just be me hosting as usual.
You've said Beyoncé is your dream guest. Who else is on that bucket list?
Bruno Mars was always someone I wanted to do it with, and now we've got him. I think we're gonna do one with Ed Sheeran soon, too. I'd love to do one with Katy Perry, Taylor Swift — so many people.
As a late-night host who skews toward entertainment, have you felt pressure since the election to cover more politics?
We just try to approach it in our own way. I don't know if this is right, but I think we were the only show to talk about what was happening in Syria and in Aleppo then. We said, "This is what's happening and if you feel like you could help, here are some organizations that you can support." News has always been there. But we also follow Stephen Colbert's show, which is very political. When we started this show 18 months ago, we really wanted it to bring warmth, levity, and light, perhaps, at the end of someone's day. Or at their lunch hour the next day. I'm also very aware that I've only lived in America for like 21 months. I'm a guest here and I wonder what it would feel like for someone who's only lived in a country this long to start talking about federal reform.
It's not totally dissimilar to John Oliver's learning curve.
But he's also lived in America for, I think, a decade now. I would hope that when I've lived here longer, I'd start to feel like I understand the political climate more. And we'll find our voice in that. I certainly feel like we have a voice and speak when we feel we need to. But following Stephen, we owe it to our audience to sit at the other end of the seesaw from time to time.
What's your assessment of the way other late-night hosts have covered politics?
There's a sort of strange feeling that comes around every now and then, which is that some people would like all of these shows to be the same. And talk about the same things. Ultimately, you want to find the lane that your show needs to sit in, because there's room for everyone to find an audience. That's what we've tried to — find our groove. It's why we've been so blown away by the response. We've not been on the air for two years.
And it's already won Emmys.
Yeah, and to win that Critics' Choice Award last year and the Producers Guild Award last week, we're blown away by it. That's why we keep trying to make the show that people want to find, whether it's on TV or on the internet the next day.

You're also shooting Ocean's 8, which means you get to breathe the same air as Cate Blanchett, Sandra Bullock, Rihanna, and all these fabulous women.
Yes! I shot my first day on it last week, which is a day I did with Sandra. It was so thrilling and wonderful. I come back to New York again to film for a week, then fly back to L.A. and start prepping for the Grammys.
How are you juggling all this? Sleep must be limited.
I come from a place where it feels like a real luxury to be tired. It's a real privilege to be tired doing something that you always wanted to do. So many members of my family are tired — my cousin's tired, and he's a brick layer — so if I were to start moaning about my life right now, I would expect any number of my friends or family to come here and punch me in the face. I'm incredibly lucky to be in such a situation. It does feel like a lot right now — producing the Carpool show, gearing up for the Drop the Mic show, doing the Late Late Show every day, and we've got the Grammys and this film — but I still feel very lucky that I even have all this to talk about. I feel like one day I'm gonna blink and this is all gonna be over. Gone. It'll be someone else doing all these things, so I'd be foolish not to try and enjoy the time we're in now.
If the Tonys called tomorrow and needed you to host again, would you accept?
I don't know if I could do it this year, really. To host the Grammys and the Tonys in one year is perhaps a little greedy. Don't me get wrong, though, hosting that show is a dream come true to me. I'd cry my eyes out if I thought that I could never host it again. But if that were the case, I'd be thrilled that I got to host it last year. I've never been so aware of how much I'm enjoying something at the time that I'm doing it than hosting the Tonys. But I also don't know that the audience wants the same person to host all these shows. I'm very conscious of not overstaying my welcome.
Aside from hosting, what are you most looking forward to at the Grammys?
The rehearsal days, actually, because you get to be in an empty arena while the biggest acts in the world essentially perform just for you.
A private show from Adele, no big deal.
And then Bruno! And all the other amazing performers. It's not lost on me what a privilege it is to do such a thing.
This interview has been edited and condensed.