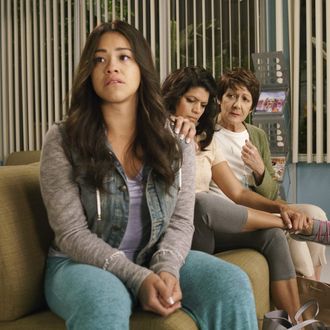 Photo: Michael Desmond/The CW
Major spoilers ahead for Monday night's episode of Jane the Virgin.

Knowing that Monday night's devastating episode of Jane the Virgin would leave fans with many feelings, showrunner Jennie Urman took to Tumblr to explain the show's decision. If you haven't watched the episode and you're living in ignorant bliss, this is your spoiler warning — turn back now. Otherwise, read on.
Urman's letter, addressed to fans, explains in greater detail why Michael Cordero died, and, unlike other telenovela characters, will stay dead. She explained that the decision to kill Michael was "made very early on, when I thought about our story as a whole":

Originally, I thought Michael would die earlier. But Brett [Dier] is such an incredible actor – he gave us such great comedy and drama and first-rate exposition delivery (!), often all in one scene… So, we changed some things in the writers' room. Jane and Michael got married. They had sex. They moved into their first home. And I'm so glad we did that and I'm so glad all those firsts for Jane were with Michael. But this is a telenovela, as we so frequently remind you. And we are only at our midpoint.
According to Urman, Michael had to die for the sake of the bigger series arc, even though his chemistry with Jane (and Rogelio) was "magic." Read the letter in its entirety here — then print it out and use it as a tissue to dry those tears.