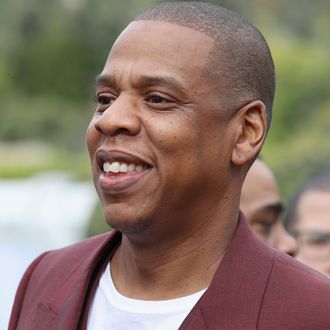 99 problems and the HOF ain't one.
Photo: Ari Perilstein/Getty Images for Roc Nation
It only took over 40 years, but the Songwriters Hall of Fame has now officially recognized rap as a lyrical art form. In June, Jay Z will become the first rapper ever inducted into the SongHall, an honor not yet given to any of the hip-hop pioneers who preceded his rise to fame. Joining Hov in the stacked 2017 inductee class are hit aficionados Max Martin, Babyface, Jimmy Jam and Terry Lewis, and Chicago's Robert Lamm, James Pankow, and Peter Cetera – plus Berry Gordy, who deferred his induction last year. (Madonna, George Michael, Bryan Adams, Kool & the Gang, and more were nominated this year but didn't make the cut.) In their reasoning for finally acknowledging rap as songwriting, full stop, the SongHall credits Jay Z for having "dominated an evolution in popular culture." (They sound especially impressed by his sales; Hov holds the record for most solo No. 1 albums at 13). And because we know you're probably already onto the next one: Jay Z will be eligible for the Rock and Roll Hall of Fame in 2021. Amend your Top 5 lists accordingly.

Update: Jay Z has responded to his historic induction, calling it a win for all of hip-hop: