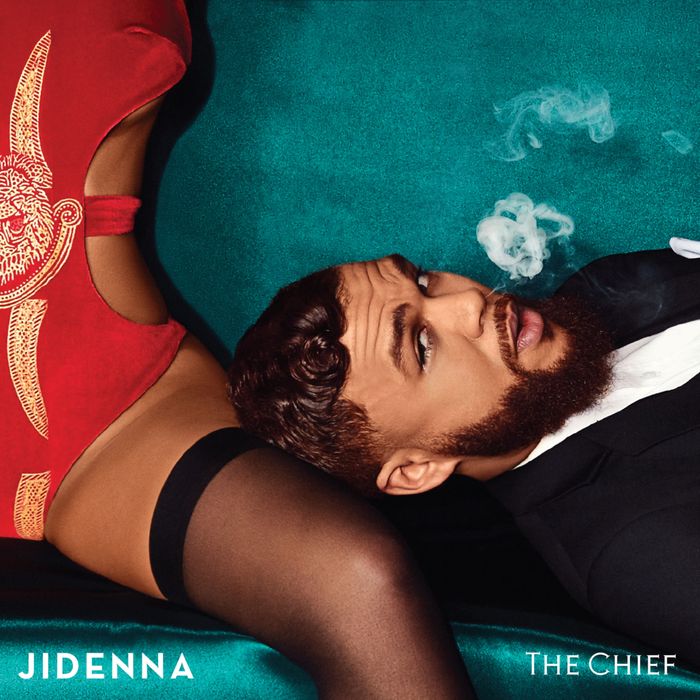 "Classic Man" was something else: lead single as political Trojan horse, music video as ideological calling card. You'd have to go back as far as Tyler, the Creator's "Yonkers" to find a song that maps out the artist's aesthetic so cleanly for a casual listening audience on a first pass. Tyler's rager explained Odd Future's teenage riot in a single blast of disdain for self and others, but Jidenna's single pulled off a more nuanced feat, sneaking revolutionary rhetoric into the margins of what seemed to be an innocuous pop jam while presenting a vision of black pride and self-sufficiency in its visual component. If you listened close, there was a verse about what to do about police brutality. If you didn't … that beat!
This kind of refinement takes time. Jidenna is a Nigerian-born, Ivy League–educated schoolteacher by trade who, as he once told Spin, got into rap by force of intellectual curiosity. He had a class project; he got to work. Pre-fame performance footage exists if you know where to Google. This slow ascent is proof the man didn't arrive classic; instead he whittled his aesthetic down over time and breached the public consciousness with it sharpened to a point. What do you do when your debut solo single cruises past a million units sold? Jidenna's patience in devising an answer speaks to a certain poise. Instead of blanketing the single and mixtape circuit with new material, advancing his profile based on whatever stuck, he carefully set about expanding on the world "Classic Man" unfurled with a series of follow-up singles alongside Atlanta singer-actress Janelle Monáe's Wondaland Arts Society collective that matched its careful balance of smooth sonics and coarse thought, if not necessarily its commercial windfall.
Today's new The Chief is the culmination of a two-year singles campaign and the decade of study and practice that preceded it. The wait has rendered it both accomplished and a little impatient. The eagerness to show listeners every single thing Jidenna is capable of results in some great songwriting, but in execution, it's a breakneck race through half a dozen genres, and sometimes two or three within the same song. Jidenna plays the capable rapper, the classic soul singer, and the Auto-Tuned hook-man, shifting styles and genres at a moment's notice. "Helicopters" imagines Bob Marley living to encounter some plush, dramatic 2010s pop production before crashing into the two-minute "Beware" coda, a seasick trap-jam so hard it deserves a proper single version. "Some Kind of Way" skips effortlessly between trap, sunny EDM, and Nigerian highlife music, proving Jidenna's disparate cultural cues aren't as far removed from one another as they might look.
The mission throughout The Chief seems to be to bridge the gap between the musical movements of the African diaspora; its carefree trip through rap, R&B, rock, reggae, dancehall, etc. feels like a function of an artist's genuinely widespread interests rather than the intentional market saturation that characterizes a lot of pop gestures of a similar nature. There is a hint of forced, strategic world-consciousness present when an Ed Sheeran tries his hand at dancehall or a Drake comes sniffing around Afrobeat that's thankfully absent here. The Chief wins because it's simply fun and smart underneath all the twists and turns (barring, perhaps, "A Bull's Tale" and "2 Points," which share the righteous fire of "Long Live the Chief" and "Chief Don't Run" but not the pointed rap smarts).
The revolutionary pulse of this stuff feels very of the moment, even if stylistically it's all over the place. "Long Live the Chief" remains the wrenching political neck snap "Classic Man" provided the chewy bait for, but The Chief also makes room for "Trampoline," a twerk anthem about respect and agency that neither objectifies nor panders, and "White Niggas," which imagines a day in America with the racial roles reversed, and what happens when the privileged experience prejudice firsthand. That these songs never come off as dark or prickly as any of their concepts read on paper is the mark of a careful guiding hand. That The Chief is better than quite a few competing records with bigger reach and promo budgets is hopefully evidence that Jidenna's tenure as a gifted, forward-thinking outsider in rap's mainstream has only begun.