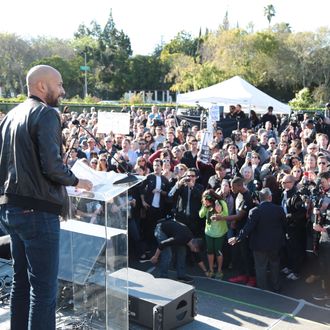 Keegan-Michael Key.
Photo: Photo: Alex J. Berliner/ABImages
Every year, United Talent Agency holds an Academy Awards party in Los Angeles to celebrate the successes of its clients and the industry. That changed this year when the UTA announced that, in light of the current political climate, they would instead hold a rally and fundraiser for the ACLU and other charities. The moment arrived tonight and the event was awash in celebrities, including Jodie Foster, Keegan-Michael Key, and Michael J. Fox, as well as political figures like California lieutenant governor Gavin Newsom. Unsurprisingly, a vein of anti-Trump talk was threaded throughout the various speeches of the day; however, most of the speakers focused on the positivity inherent in events like a rally. As Jodie Foster put it, "It's time to show up." And show up they did. Here are the best bits from the day's speeches.
Jodie Foster
"I don't know if you guys made it to the Women's March. Did you make it? Well, that was something. There we were, standing all of us next to each other, and I'm 5 foot 3, I can't see anything! Except for thousands and thousands and thousands of people smiling and clapping and high-fiving, and being gentle … and at a certain point, when we couldn't move forward, somebody said, 'Let's turn right!' Everybody turned right, we walked for three blocks, we came upon an avenue where everything was stopped. Buses, people standing on top of their cars, dancing, playing hip-hop music, smiling, and picking up their kids in the street, holding them on their shoulders. That was a proud moment. It was a La La Land moment. It let the world know that we're here by the hundreds of thousands, we were watching, and we matter.
"So you're going to remember where you were today, and what you did at this particular time in history, and no matter where you're born, and no matter who you voted for, red or blue, whether you're white, black, or brown, or all the colors of the identity rainbow, this is our time to resist. It's our time to show up and demand answers! It's our time to tell our elected officials to do their job! That we will not tolerate chaos, ineptitude, and war-mongering, and that we're not going to give up the health of the planet, or the health of our citizens, and that we're not going to sell out hardworking Americans to enrich those that hold the power strings. Because people get to speak out now. Because the White House is our house. It's the people's house. You know, that's what a president said to me when I went there. He said, 'Welcome. This house belongs to you.'"
Wilmer Valderrama
"My parents sold everything they had in Venezuela so that we could come to the United States, and I quote my dad, who by the way always sounded like he was drunk, 'Miho, I just want you to get the education that we never had.' My sisters and I were the first ones to speak English in our family, and I remember walking a few miles with my mom and my sister to go to the 99-cent store, for the groceries for the month. [Laughs.] And nothing against the 99-cent store, I still go there today, they have cheap candy … a lot of cola. But I remember my mom stopping every couple off blocks to give her little hands a little break, and I would notice my mom's hands turning red, and this happened for a couple of years, and I told my mother that day, I said, 'Mom, one day, we're going to drive.' And one day we did … I stand here today for my family. I stand here today for those people that continue to take the jobs that most people think are magically done. There are hundreds of thousands of jobs in this country who the people that are working are being threatened today for rendering services and taking jobs that we all assume get done magically. So today we have to unite our voices for them."
Keegan-Michael Key
"As artists and storytellers, we have the ability to educate, we have the ability to inspire, we have the ability to affect change, to bring people together, and to even sometimes, bring light where there's a whole lot of darkness. We're the ones who've been given the mantle to tell everybody's story. Whether you be trans, whether you be black, whether you be Latino, whether you be disabled, we're here to be a platform for you. Because once you tell a story, it's impossible for a person not to stand in your shoes … not to see something from your point of view. We must speak for those who cannot speak! We must write and act and paint and sing for those who cannot express themselves, for those who feel they're being left behind, for those who feel they're not being represented."
Ashgar Farhadi
"It's comforting to know that at a time when some politicians are trying to promote hate by creating divisions between cultures, religions and nationalities, the cinema community has joined the people in a commendable show of unity to announce its opposition. I hope this unity will continue and spread to fight other injustices. Filmmakers can break stereotypes around the world by turning the cameras to capture shared human qualities."
Michael J. Fox
"I became a citizen about 20 years ago. And it was a tough process. It took about eight years from start to finish, and I complained about how long it took. And I think, what was I bitching about? There are people that are giving up everything, they've lost everything they have, and are struggling to keep their families alive, and to keep food in their mouths, and disease away from their bodies, and took tremendous risks to get here, to get to this country. And then we say no? No 'How are you doing? What's your name? Where are you from? What do you believe? What do you want to do? What can you contribute? What can you offer us? What can we share with you?' Just, 'No, just go'? It's an assault on human dignity … But one's dignity may be assaulted, it may be vandalized and cruelly mocked, but it can never be taken away unless it is surrendered. Today we stand united. We will never surrender our shared values of compassion, of human dignity, of freedom of expression, religion and the arts. We will never bow down to division, to cruelty, to fear. We are the lucky ones. We are lucky. We are goddamn lucky. And how about we share that luck, and share it with the people who need to be here, and who need to stay here?"