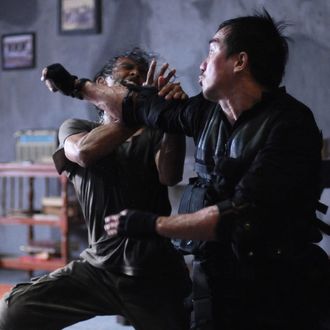 Photo: Sony Pictures Classics
Last week, when Joe Carnahan announced that he's working on a reimagining of the Indonesian action film The Raid, he promised an imminent interview with Collider in which "all your fears will be allayed." He vowed that the project, which he will produce alongside Raid director Gareth Evans, would not defile the sacred text of the original, and emphasized that his intention was not at all a remake but a reinterpretation of the source material. That raises the question: Will this movie be The Raid at all? Based on that Collider interview, the answer veers toward no. Carnahan and actor Frank Grillo passionately laid out their plans for a new take on film, which ends up sounding like a great action movie idea they had while watching another great action movie. Grillo even says, "I think we could remake The Raid with a little bit more story and the same amount of action, and it would be a different movie," with Carnahan sharing this helpful piece of advice he was given about the project, "Do not constrain yourself based on what this was. Make it something that it's not." So, here are some substantial ways in which this Raid reimagining will blaze its own trail, according to two of the guys making it.
The Fighting Style
Carnahan: "If our movie felt like the knife fight between Adam Goldberg and the German in Saving Private Ryan the entirety of the movie, then we've done exactly what we needed to do — something that is that grueling and tough. So the aspect of it that feels choreographed, that feels like dancing is gone. It's Eastern Promises. It's Saving Private Ryan."
The Location
Carnahan envisions his movie taking place in Caracas, Venezuala, because, "Caracas is a madhouse. It's almost like a safe house for bad guys, like they built this bloc in Caracas because this is where you come do business and no one will fuck with you, because it is such a dangerous place that no one wants to go in there."
The Protagonist
Carnahan wants to veer away from the un-killable type that typically dominates action movies — like John Wick or even Iko Uwais's character in the original The Raid — and instead focus on a more realistic wounded-warrior type. "You're catching a guy who is compelled to go after his brother after he just got his ass kicked in a completely different operation," says Carnahan. "You're getting a guy who's like the walking wounded — very mortal, very human. More people have an affinity for or an understanding of that situation than being this physically fit monster that doesn't feel pain."
The Central Relationship
Carnahan and Grillo both talked about building out the story of the two brothers in the new movie, and making their relationship with their father central to each man's motivation. In the original, the hero, Rama, is encouraged by his father to take the raid mission in order to retrieve his brother, Andi, who has taken to a life of crime.
Both men explain that they were inspired to do a new version of The Raid in part because the original was not so widely seen in the United States, with Grillo saying, "We want to do this because there is something that we see that we can show American audiences and audiences globally." They want to "honor" the first film, while essentially making everything more gonzo. Carnahan says the aim is to take the framework of the original and pump everything full of steroids, and give it a tone more similar to his films The Grey and Narc. But when you use a handful of movies that aren't The Raid to describe your reimagining of that film, when does your project go from "based on" to the more loosely defined "inspired by"? To be clear, Grillo and Carnahan sound like they're scheming on a really fresh, entertaining idea for an action film, and they are taking the leap of having no funding upfront and banking on the back end. They believe in this project. But when you characterize your approach as, "Where The Raid zigs, we'll zag," maybe it's best to just zag your way into a different title all together.