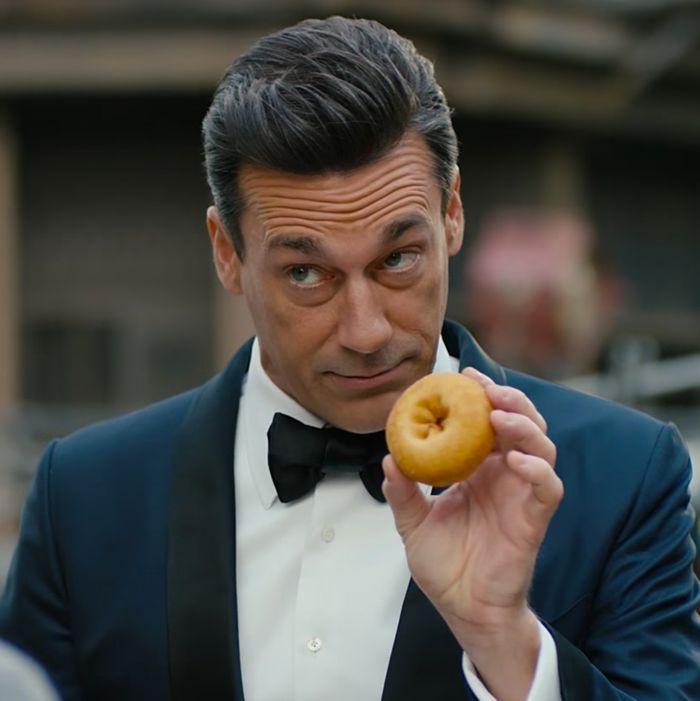 The new face of H&R Block.
It's been a while since we've seen Jon Hamm every week in a sharp suit and skinny tie, sloshing his way through the '60s. To those who haven't been paying attention, it may seem like he went to the North Pole to hang out in the Fortress of Solitude and polish his Emmy award. That's not so. He's actually been all over the place, filming a bunch of cameos, silly internet videos, commercials, and, oh, just five movies that are getting ready to premiere. Jon Hamm was not resting on his laurels. And for all of you who missed him, get ready for a whole lotta Hamm.
May 2015: As the Mad Men finale airs, Hamm is in Atlanta filming Keeping Up With the Joneses. He plays a CIA agent lying about his life to fit into suburbia. It's basically the same as Mad Men.
September 2015: After winning his first Emmy for the final season of Mad Men, he celebrates the next weekend by playing pickup baseball in a park in Los Angeles with some guy friends. He also agrees to appear as Don Grouper in an episode of SpongeBob SquarePants.
October 2015: Hamm films a cameo for Absolutely Fabulous: The Movie where he is incidentally responsible for Kate Moss's drowning. He also starts production on Marjorie Prime, where he plays the holographic version of an elderly woman's dead husband. Geena Davis plays his daughter, which is weird.
November 2015: In the Star Wars Audition video for SNL he tries to rename the character Hamm Solo. He also films Aardvark, where he plays Zachary Quinto's brother, which is good casting.
January 2016: The release of Hamm's final guest role on Children's Hospital as Derrick and Arthur Childrens, the illegitimate child of the hospital's founder and Malin Akerman's alter ego. (It's very confusing.) He's been playing them since 2010. Thanks to an interview on Starz!, the world discovers that the Hollywood Foreign Press Association spelled his name "John Hamm" on one of his two Golden Globes. Get the H out of here.
February–May 2016: Hamm is off filming Baby Driver in Atlanta. He plays a former Wall Street trader and party animal who becomes a bank robber.
June 2016: He goes right into filming High Wire Act in Tangier, Morocco, where he stars as a diplomat in Beirut in 1980 who has to save a colleague from a terror group. Back in the States, he shocks fans with a tiny, tiny cameo in Rashida Jones's Angie Tribeca and completely confuses fans in a bizarre wrestling match on The Chris Gethard Show.
September 2016: The first official Mad Men reunion happens when Hamm hangs out with old co-star January Jones on her new show The Last Man on Earth. While Jones's Betty Draper only shot at pigeons, her character here gets to shoot Hamm in the chest. That probably felt good for Betty.
October 2016: Hamm and Jimmy Fallon premiere their turtle-based soap opera In the Dusk of Night on The Tonight Show. Speaking of premieres, those at the premiere of Nick Kroll and John Mulaney's Broadway show Oh, Hello notice that their (fictional) understudies are Hamm and John Slattery. Even while doing eight (fictional) shows a week, he still has time to talk to Mr. Porter's The Journal about his experiences in rehab. To cap off a busy month, he appeared alongside Jake Gyllenhaal at a benefit for Hillary Clinton performing a scene from It Can't Happen Here. This is all part of the press blitz for Keeping Up With the Joneses, which opens on October 21 and is quickly declared a major bomb.
November 2016: We learn that most people would not like to have a threesome with Jon Hamm and Billy Eichner. Eichner once again addressed the rumors about the size of Hamm's ham, which might explain why some might not be into one of those threesomes.
December 2016: H&R Block unveils a series of commercials where Hamm tells us that we can have "our taxes won." Many wish their accountants looked just like Jon Hamm. This is Hamm's first endorsement deal where we actually see him onscreen rather than just hearing his voice purr alongside a Mercedes-Benz.
January 2017: Hamm attends the Sundance Film Festival where he has two films premiering: Marjorie Prime and Nostalgia. Marjorie Prime wins the Sloan Feature Film Prize. The world also finally gets to see his SpongeBob SquarePants cameo. Not too tired from partying in Park City, he hosts a gala for the 100 greatest NHL players in Los Angeles.
February 2017: The pilot for ABC's comedy Libby and Malcolm, about a Democratic operative and a Republican politico who get married and blend their families together, films in L.A. Jon Hamm plays himself. No one can do Hamm like Hamm.