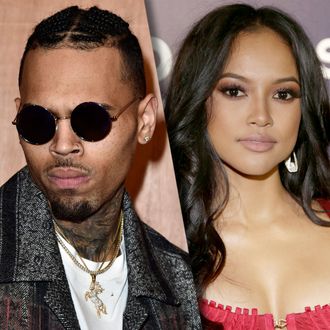 Brown and Tran.
Photo: Getty Images
Chris Brown has been ordered to stay away from his ex-girlfriend Karrueche Tran after a judge granted her request for a domestic-violence restraining order following new accusations against Brown, the AP reports. According to TMZ, Tran claims Brown has repeatedly threatened to kill her since December via texts sent either directly to Tran or to her friends. She says Brown "told a few people that he was going to kill me" and has allegedly threatened to "take me out" or "shoot me." In a statement to the judge, Tran also claims that Brown physically abused her years ago, during the time he was on probation for assaulting his ex-girlfriend Rihanna. He "punched me in my stomach twice" and "pushed me down the stairs," she says. Brown's newest threats allegedly extend to her friends; Tran says he recently threw a drink at one of them. Earlier this year, Brown threatened to fight Soulja Boy over liking an Instagram photo of Tran. Brown has now been ordered to cease all contact with Tran and her family, stay 100 yards away from her, and surrender all firearms in his possession.
As of June 15, Karreuche Tran's restraining order against Chris Brown has been extended to five years after some legal back and forth between the Claws star and Brown. A judge has also ordered Brown to attend a year of domestic-violence intervention classes, which he was also previously court-ordered to take after physically assaulting Rihanna in 2009.
This post has been updated throughout.