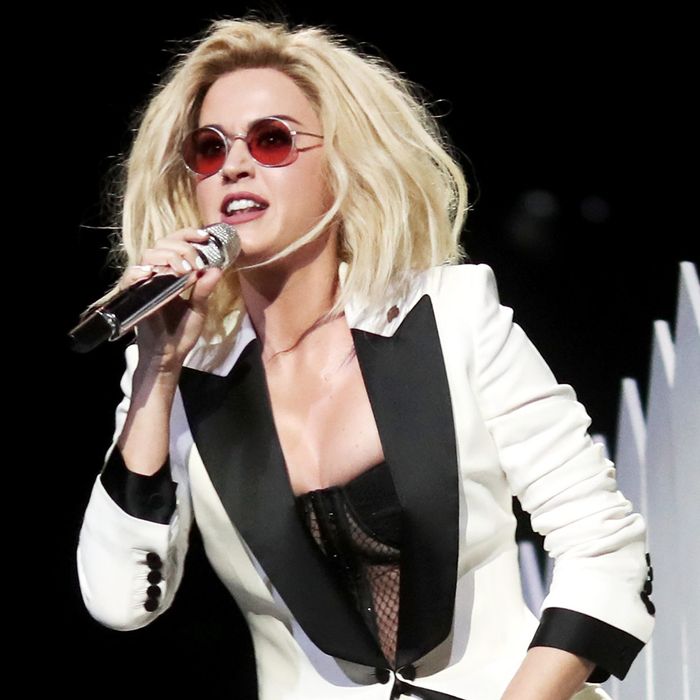 Katy Perry performing at the Grammys.
Photo: Christopher Polk/Getty Images for NARAS
If you watched the Grammys on Sunday, then you likely witnessed the return of Katy Perry. She performed her new song "Chained to the Rhythm" inside a rotating, crumbling, fenced-in house sporting an armband that read "PERSIST," a twist on the anti-Trump protest slogan "RESIST." The single's a decent downbeat disco tune (that lands a little close to the title and message of Grace Jones's 1985 hit "Slave to the Rhythm"), but the staging of the performance was ultimately too distracting. I get it: The exploding house is an allegory for a country seeking to wall itself in when there's trouble on the home front, and that's a recipe for disaster.
I was honestly more intrigued by Perry's quick red-carpet chat during the E! Network preshow, where, thinking the talk wasn't live yet, she said "shit" on national television and joked with host Ryan Seacrest that it would be her last appearance on the special. The gaffe was funny, but the bit that really grabbed my attention was the explanation of her intention with "Chained to the Rhythm" and what she has come to call "purposeful pop": "I think it's just, like, a song that starts conversations, and I think that's what we need more than ever … There's so much divisiveness and people on one side or the other, and I think we just need to listen to each other. I hope this song does that."
To be clear, "Chained to the Rhythm" is a song about getting lost in the comfort of mindless routines. Existential questions are posed ("Are we tone deaf? / Keep sweeping it under the mat / Thought we could do better than that / I hope we can") but not deeply considered. It works better as pop-on-pop culture criticism than the call for political awakening the Grammy presentation suggested, something along the lines of Lorde's "Royals" or Kendrick Lamar's "Swimming Pools (Drank)," if Perry's titular "rhythm" is the beat of the music we use to placate ourselves in tough times. (If not, she's biting Grace worse than I thought!)
The red-carpet interview makes me think it's not, though. It feels like Perry arrived late to the political-pop party with a catchphrase to describe something her peers and predecessors have been doing all along. Think of Beyoncé introducing her new album in Black Panther gear on the Super Bowl stage last winter or Gaga using the same stage this year to play "Born This Way," her gay-rights anthem, in front of many of the very people the song and its accompanying outreach campaign were pointedly speaking out against. Think of Michael and Janet Jackson singing of world peace and healing in the '80s. Think of the protest music of the '60s. Pop has always had purpose.
Now, Katy Perry is not some apolitical pop dilettante out of her depth here; she was a high-profile Clinton campaign surrogate last year, and her portfolio of philanthropic work is extensive. She has enjoyed the luxury of keeping her music light and confectionary in spite of all this, and it's possible that this schism has kept her out of certain circles and conversations. (Cuts like "Teenage Dream" and "Firework" will likely rank among the decade's most memorable pop moments, but there's no dynamite album to hang in the hall of fame just yet.) She clearly recognizes the job of pop star growing complicated as her peers' creativity splatters out into full-stop multimedia masterpieces, and she seems up to the task. But man, here's hoping the music gets to be as edifying as the conversation about it has been, and let's pray KP5 is her classic.