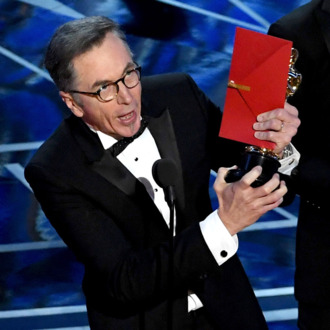 Kevin O'Connell finally winning that Oscar.
This year's Academy Awards will go down in history for at least one thing: Kevin O'Connell finally, finally won a damn Oscar.
In case you aren't familiar — and if you've ever watched the Oscars before, you are, even if you don't realize it — O'Connell's a veteran sound mixer who's been nominated an astonishing 21 times, with his first nod coming for Terms of Endearment in 1984. He also played a role in a juicy sound-mixing feud at the 2007 awards, when a rival said O'Connell "should take up another line of work" — only for it to come out that O'Connell had skipped the ceremony to be with his mother on her death bed.

But O'Connell's getting the last laugh: Dude finally won a statue, for his mixing work on Hacksaw Ridge. Onstage, he dedicated the win to his late mother. Now, the title of most nominated without a win passes to O'Connell's colleague, sound man Greg P. Russell, who this weekend was stripped of his nomination for 13 Hours: The Secret Soldiers of Benghazi for improper campaigning. You never knew sound awards had this much drama, did you?