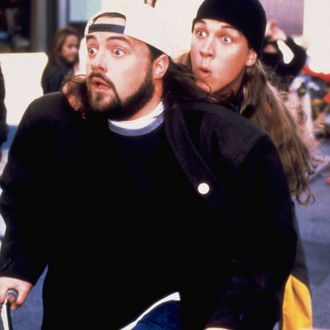 Jay and Silent Bob Strike Back.
Photo: Miramax
Kevin Smith is working on a new Jay and Silent Bob movie called Jay and Silent Bob Reboot. Of course, since Occam's razor has oft found exception in Kevin Smith, Jay & Silent Bob Reboot is not a reboot, but a sequel. If it actually happens, it'll follow Jay and Silent Bob as they try to prevent a reboot of the Bluntman & Chronic Movie that they spent the length of Jay and Silent Bob Strikes Back trying to prevent. If your head is spewing time streams, Smith left a characteristically loquacious explanation on Instagram, calling the project "a tongue-in-cheek, silly-ass satire that pokes fun at the movie business's recent re-do obsession, featuring an all-star cast of cameos and familiar faces!"
Smith also explained his reason for revisiting the property — he couldn't revisit anything else. His planned Clerks III film was derailed by an uninterested lead, no one bit on his Mallrats TV series, and he doesn't own Chasing Amy or Dogma. That leaves Jay and Silent Bob, who have been keeping themselves warmed up with Degrassi stopovers should a cause come calling. Despite the lack of confidence the collapse of his other View Askewniverse projects inspires, Smith is optimistic once again. He's pinning his hopes on a possible summer shoot for Jay & Silent Bob Reboot, which, let's face it, should be called Jay & Silent Bob Strike.