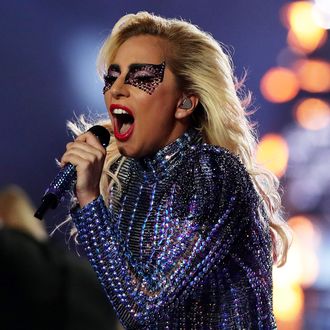 Lady Gaga performs during the Pepsi Zero Sugar Super Bowl 51 Halftime Show.
Photo: Tom Pennington/Getty Images
If you're Lady Gaga and you just performed a subversive hit-filled spectacular during Super Bowl LI's Halftime Show, how do you celebrate after? By announcing that your adoring fans — Hillary Clinton, Joe Biden, and Ivanka Trump included — will be able to see you live soon. After the New England Patriots won the big game, the pop star announced the 2017 Joanne World Tour on Twitter. Details are still forthcoming regarding locations and dates, but as this will be her first solo, non–Tony Bennett co-headlining tour since 2014's ARTPOP, expect the diva to put together a high-energy tour de force. Gaga's album Joanne dropped last fall and debuted as No. 1 on the Billboard 200 chart. See the tweet below.