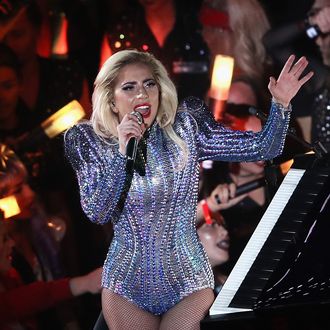 Lady Gaga performs during the Pepsi Zero Sugar Super Bowl 51 Halftime Show at NRG Stadium.
Photo: Ezra Shaw/Getty Images
This land is Lady Gaga's land after her phenomenal halftime show. The diva, who started her performance from the top of NRG Stadium with some patriotic American songs before diving onto the stage, made quite the impression with the audience in Houston and with celebrities and politicians watching live and at home. Among her biggest little monsters were Secretary of State Hillary Rodham Clinton and Vice-President Joe Biden. There were plenty of other movie stars and pop legends also ready to weigh in on the show, and all agreed that Gaga was the true winner of Super Bowl LI (okay, and the New England Patriots). Read their tweets below.