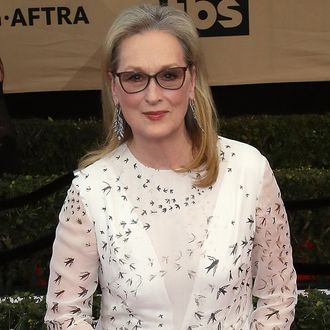 Photo: David Livingston/Getty Images
Everyone knows that the Oscars viewing parties at home start long before the airing of the opening monologue for the awards show. That is, we're all busy watching Hollywood royalty walk the red carpet. And this time, we have a peek into what Meryl Streep, one of Hollywood's queens, will most definitely not be wearing on Sunday: Chanel. This comes, too, from one such source by the name of Karl Lagerfeld.

The designer told Women's Wear Daily that the couture house was actually in the midst of adjusting an embroidered gray silk gown for Streep to wear to the awards ceremony. Days after Lagerfeld says he made a sketch and work began on the dress, Streep's team contacted the house to cancel the order. "Don't continue the dress," Lagerfeld says he was told. "We found somebody who will pay us." Translation — Streep's team apparently went with a designer who was willing to pay. Chanel, Lagerfled explained, has a strict policy of not paying individuals to wear the house's designs. And no, Streep doesn't get a pass on that.
In typical Lagerfeld style, he added, "A genius actress, but cheapness also, no?"

Update, 2/24, 8:45 a.m. A representative for Meryl Streep denied Lagerfeld's claims to The Hollywood Reporter, saying that it is against the actor's personal ethics to be paid to wear a gown on the red carpet. Hours later, Chanel issued a statement of their own:

Chanel engaged in conversations with Ms. Streep's stylist to design a dress for her to wear to the Academy Awards, with the full understanding that she was considering options from other design houses. When informed by the stylist that Ms. Streep had chosen a dress by another designer there was no mention of the reason. Chanel wishes to express our continued and deep respect for Ms. Streep.