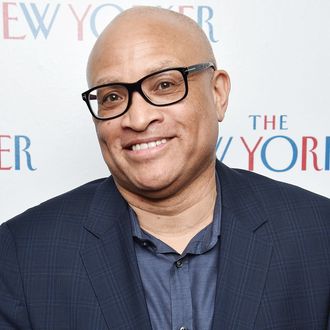 Photo: Dimitrios Kambouris/Getty Images for The New Yorker
Larry Wilmore knows a thing or two about lending his comedic chops to the White House Correspondents' Dinner — serving as the featured comedian at the gala last year, he delivered a scathing 23-minute monologue that threw equal punches at all of the media outlets, journalists, and political figures in the room. (So scathing, in fact, that it even elicited many boos.) With President Donald Trump's first WHCD on the horizon, though, it's currently uncertain whether the White House will book a comedian to do the honor of roasting the president and the press, as has become a staple of the gala over the past few decades. (Let's just say the president can't really take a joke well.) So far, comedians have had mixed feelings about taking the job if offered by the Trump administration — John Oliver and Samantha Bee are decisive nos, while Stephen Colbert is totally onboard — but Wilmore has a few thoughts on the matter too, and he wants comedians to know that they would be foolish not to take such a creative opportunity in our current political climate.
"You want to be respectful of the office but, my goodness, this would be the year to absolutely take that [invite] if you were asked," Wilmore told The Hollywood Reporter. "If you really are against everything that comes out of Trump's mouth — or his fingers, if he's tweeting — what an opportunity to let that be known in a very funny and creative way." Wilmore added that the Correspondents' Association neither censored nor asked to review his monologue before the gala, thus giving him total creative freedom. "Nobody vetted my material. Nobody knew what Stephen [Colbert, in 2006] was going to do," he said. "I see it as a huge opportunity for a comedian to do something interesting." Want to host it again then, Larry?