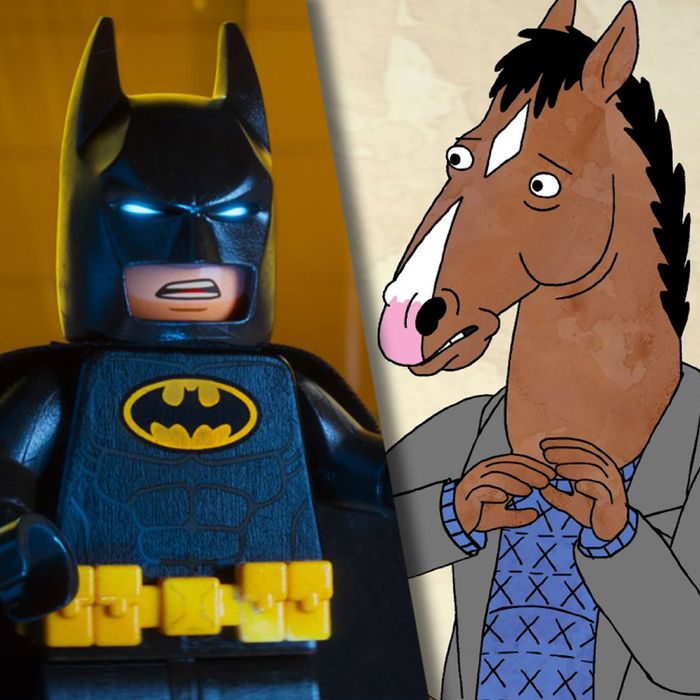 Arnett voices both Lego Batman and BoJack Horseman.
Photo: Courtesy of Warner Bros. Picture/Netflix
In The Lego Batman Movie, you'll see Batman like you've never seen him before. By that, I mean, you'll see him exactly as you've seen him before — arrogant, isolated, strangely self-promotional — but with far more awareness of how weird the character often seems, what with that whole savior-complex, secret-identity, bat-everything deal.
It's a tightrope-walk foreshadowed by the supremely meta Lego Movie, except now it's hyperfocused on just Batman himself. For the whole delicate joke to land, it takes the kind of actor who can manage to communicate both wholehearted dickishness and a sympathetic angst. An actor with a voice like, say, Will Arnett's.
Arnett, of course, is most famous for a full-bodied role: Gob Bluth, the bombastic live-wire magician from Arrested Development. But since then, the actor has made his most significant impact as the voice behind cartoons. He has three seasons under his belt as BoJack Horseman, the titular protagonist of Netflix's whip-smart and surprisingly poignant animated series about a washed-up horse haunted by his glory days as the lead of a network sitcom. And now, he's taken on the role of Batman, joining the ranks of actors like George Clooney, Michael Keaton, Christian Bale, and Ben Affleck. Except, unlike their versions of the legendary superhero, Arnett's isn't meant to be taken seriously. Also, he's a Lego.
In that way, and many others, Arnett's performance as Batman is unique. In keeping with the spirit of the Lego Movie world, his Batman is simultaneously true to the hyper-earnest, hard-core standard — the lone crime fighter forever trying to avenge the death of his parents — as well as a send-up of that same character, forever mired in his own dark legend, to the point where every tool and vehicle he uses has to take the weirdo form of a bat. To pull that off, Arnett adapts a version of Bale's Batman voice, which sounds more or less like a thousand cigarettes being smoked at once. If Keaton's hyperbolic portrayal was best embodied by Matthew Perry on "Celebrity Jeopardy," repeatedly asserting "I'm Batman," then Arnett's is the perfect send-up of the ultraserious latter-day version, out-graveling the gravelly moan that both Bale and Affleck have gone for.
But it's Arnett's work as a talking horse that truly distinguishes him as a voice actor. BoJack Horseman is, against all odds, one of the most humanist shows on TV, using its wonderful array of anthropomorphized animals to highlight the strange ways people behave toward each other — good, bad, kind, selfish, and sometimes, a mix of all four. As BoJack, Arnett's perfected the balance of cocky derangement and sheer self-hatred, a tricky equilibrium. We always feel for BoJack even as he one-ups his own vileness, and much of that has to do with the pathos Arnett lends him.
While Lego Batman never wades into the deep waters BoJack does, the role requires that same kind of dichotomy to work. And interestingly, it's a trick Arnett hasn't quite pulled off in a live-action role since Arrested Devlopment. Without necessarily any fault of his own, the parts he's played as a living person have tended to skew too far in either direction, like the cloying protagonist of Flaked or the dickish billionaire in Running Wilde. But as a voice, he's had no trouble maintaining that tricky balance, with BoJack especially proving one of the most captivating characters on television right now, animated or not. Arnett is an engaging performer, and certainly it seems like he could still find a character worth his time in the real world. Until then, though, there are plenty of asshole cartoons who need love, and he's just the guy to bring it to them.