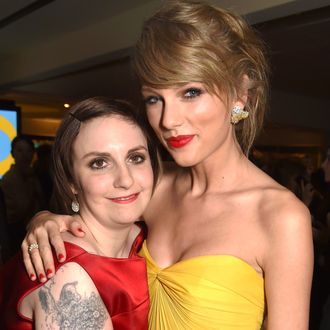 Photo: Jeff Kravitz/FilmMagic/Getty Images
Taylor Swift was notoriously tight-lipped over the course of the U.S. presidential election when it came to discussing Donald Trump and Hillary Clinton — or politics in general — with her choosing only to post an Instagram on Election Day imploring citizens to vote. ("Today is the day. Go out and VOTE.") Critics were quick to lead a backlash against Swift for her lack of a political endorsement — owing to her prominence as an international figure and her insistence that she's a feminist — especially when many of her music contemporaries, such as Katy Perry, were extremely vocal in their views. Now, one of Swift's friends, Lena Dunham, is defending her choice to not publicly discuss politics, arguing that people have every right to remain silent if they choose to. "I just think everyone has to do it their way," Dunham explained to Rolling Stone. "When I was lesser known, I was like, 'Who could not share their opinion?' Then I found out that when you talk about politics, people straight up tweet you the floor plan of your house and say they're coming to your house. You have to fucking watch it because people are nuts." Dunham also expressed admiration for how Swift chose to approach her career:

She's been in the public eye since she was 15. I felt young when my career started and I was 23, 24. When I met her, she was newly 22, and she was a fucking seasoned pro at this stuff. Watching the way that she understands the vicissitudes of the cycle, and she just keeps making her work – that's just really impressive to me. That's how I hope to live my life, which is not as a slave to public opinion, but just as somebody who continues to make things. She's truly just an artist who has to make things to survive.
Swift has been laying relatively low over the past few months, only recently surfacing to perform what might be her only concert of 2017.