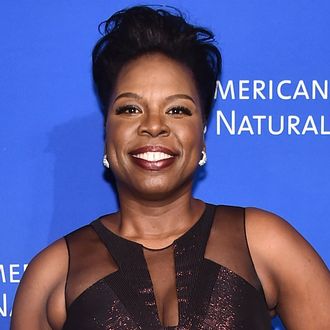 Leslie Jones.
Photo: Michael Loccisano/Getty Images
Ain't nothing gonna break Leslie Jones's stride. At least, that's the impression the New York Times got at one of Jones's sets in a run of shows at Caroline's comedy club in New York City. Performing for a packed audience at what the Times called a "high-volume" show (which, duh, of course, Leslie Jones), the SNL star and longtime stand-up relayed the mixed emotions and results of having her computer hacked and private nude photos shared online last year. One downside is that your elderly aunt will see your nudes, for example; however, there is an upside. "They don't understand how many people I've actually tried to show that to," Jones joked. "You really just helped a sister out. Thank you for the distribution."
The photo hack was part of a more extensive racist and sexist online campaign aimed at Jones and orchestrated in part by alt-right troll Milo Yiannopoulos, whose list of "formers" now outnumbers his list of "currents" (former Breitbart editor, former CPAC speaker, former Simon & Schuster author). In her set, Jones did not address Yiannopoulos directly, but she did reach out to her female fans who might find themselves dealing with the male gaze and all its permutations in the future. "Own your craziness," she advised, before reminding the crowd, "All women are like me now. We make our own money." Or, put another way, the best revenge is your paper.